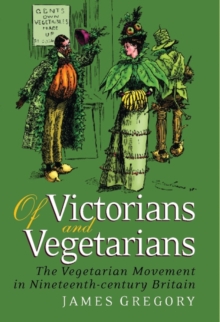 Of Victorians and Vegetarians : The Vegetarian Movement in Nineteenth-century Britain
Hardback
Description
Nineteenth-century Britain was one of the birthplaces of modern vegetarianism in the west, and was to become a reform movement attracting thousands of people.
From the Vegetarian Society's foundation in 1847, men, women and their families abandoned conventional diet for reasons as varied as self-advancement, personal thrift, dissatisfaction with medical orthodoxy and repugnance for animal cruelty.
They joined in the pursuit of a perfect society in which food reform combined with causes such as socialism and land reform, stimulated by the concern that carnivorism was in league with alcoholism and bellicosity.
James Gregory provides a rich exploration of the movement, with its often colourful and sometimes eccentric leaders and grass-roots supporters.
He explores the rich culture of branch associations, competing national societies, proliferating restaurants and food stores and experiments in vegetarian farms and colonies. "Of Victorians and Vegetarians" examines the wider significance of Victorian vegetarians, embracing concerns about gender and class, national identity, race and empire and religious authority. Vegetarianism embodied the Victorians' complicated response to modernity in its hostility to aspects of the industrial world's exploitation of technology, rejecting entrepreneurial attempts to create the foods and substitute artefacts of the future.
Hostile, like the associated anti-vivisectionists and anti-vaccinationists, to a new 'priesthood' of scientists, vegetarians defended themselves through the new sciences of nutrition and chemistry. "Of Victorians and Vegetarians" uncovers who the vegetarians were, how they attempted to convert their fellow Britons (and the world beyond) to their 'bloodless diet' and the response of contemporaries in a variety of media and genres.
Through a close study of the vegetarian periodicals and organisational archives, extensive biographical research and a broader examination of texts relating to food, dietary reform and allied reform movements, James Gregory provides us with the first fascinating foray into the impact of vegetarianism on the Victorians, the history of animal welfare, reform movements and food history.
Information
Format: Hardback
Pages: 328 pages, 25 illustrations
Publisher: I.B. Tauris & Co. Ltd.
Publication Date: 29/06/2007
Category: Social & cultural history
ISBN: 9781845113797
Free Home Delivery
on all orders
Pick up orders
from local bookshops
Also in the International Library of Historical Studies series | View all