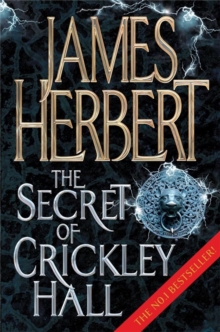 The Secret of Crickley Hall
Paperback
Description
The Caleighs have had a terrible year...They need time and space, while they await the news they dread.
Gabe has brought his wife, Eve, and daughters, Loren and Cally, down to Devon, to the peaceful seaside village of Hollow Bay.
He can work and Eve and the kids can have some peace and quiet and perhaps they can try, as a family, to come to terms with what's happened to them...Crickley Hall is an unusually large house on the outskirts of the village at the bottom of Devil's Cleave, a massive tree-lined gorge - the stuff of local legend.
A river flows past the front garden. It's perfect for them...if a bit gloomy. And Chester, their dog, seems really spooked at being away from home. And old houses do make sounds. And it's constantly cold. And even though they shut the cellar door every night, it's always open again in morning...The Secret of Crickley Hall is James Herbert's finest novel to date.
It explores the darker, more obtuse territories of evil and the supernatural.
With brooding menace and rising tension, he masterfully and relentlessly draws the reader through to the ultimate revelation -- one that will stay to chill the mind long after the book has been laid aside.
Information
Format: Paperback
Pages: 400 pages
Publisher: Pan Macmillan
Publication Date: 04/05/2007
Category: Horror & ghost stories
ISBN: 9780330411684
Free Home Delivery
on all orders
Pick up orders
from local bookshops
Reviews
Showing 1 - 5 of 6 reviews.
Previous | Next
Review by diehardkev
16/06/2015
A traditional old haunted house tale, very reminiscent of the film 'Haunting'. Also set just outside the town I visited on holiday as a child for over a decade.
Review by alatham
16/06/2015
Struggling to finish it.I'm quite disappointed with this latest James Herbert. I've read a number of his later novels, including "The Ghosts of Sleath", "Others" and "Nobody True" and thoroughly enjoyed all of them. However I find this latest 'tome' repetitive, lacking any deep plot or characterisation and far, far too long to cope with the meagre plot. If you compare the excellently constructed protagonist in "Others" with any of the main characters in "The Secret of Crickley Hall" then you will notice a complete disassociation with the reader. In the former the reader is empathetically taken on an emotional journey with Nicholas Dismas, however in "The Secret of Crickley Hall", even though the characters face deep physical and emotional struggles, the unnecessarily repeating and drawing out of the 'plot' turns a potential page turner into a page closer!The only "twist" I've come across so far is that one of the children and the head mistress from the war are still alive. But in all honesty, even this is a tediously protracted and utterly predictable.There are some scenes around the middle of the book which build in tension and do grasp the readers attention however they procrastinate an exciting conclusion but fail to deliver, falling into a void of utter pointlessness.I've been about 60 pages from the end of it for about a week with another shiny new book sitting eagerly on my bookshelf waiting to be read. Only sheer stubbornness is forcing me to finish it, I just hope the end will surprise me, but I doubt it.
Review by Elphaba71
16/06/2015
This is the first James Herbert book I have read, it will not be the last! This is a real chilling, gothic horror story. Set in Devon, Crickley Hall is home to a tragic past that still haunts the house & the new tennants. There is a good bit of sceen setting in the first 100 pages or so, the story starts off quite slow meadnering it's way to a very fast paced chilling end.
Review by runner56
16/06/2015
I have been a long time fan of Mr Herbert and fondly remember reading such delicacies as The Rats, Lair and Haunted to name but a few. These books however were written in the distant past and in recent times the author just has not delivered....until now. The Secret of Crickley Hall sees James Herbert back to his best. This book reminds me somewhat of the style of Hauanted but it is fresh absorbing and most important for a horror book...frightening! Read and enjoy...but leave the light on!!
Review by cathymoore
16/06/2015
This book marked a return for me to James Herbert after I scared myself witless reading Rats a number of years ago. I was ready to be terrified again. Alas, it was not to be. While Crickley Hall is a good story with some interesting if somewhat stereotyped characters, it doesn't have that really creepy, terrifying capability that I feel some of his previous works have had. It kept me interested and I rattled through it in a couple of days, testament to the fact that it wasn't that scary (I find myself putting scary books to one side for days at a time while I pluck up the courage to read on!) If you are looking for a good story of a haunted house then you've come to the right place, however it's not the sort of book you need to avoid reading at bedtime. Anyone who gets nightmares from this one needs to man up a bit!!