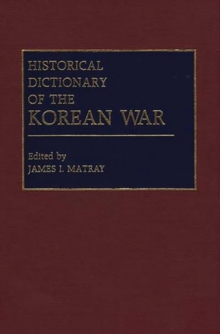 Historical Dictionary of the Korean War
Hardback
Description
Designed as a helpful reference tool for both Asian specialists and students and scholars in the broader fields of diplomatic history and foreign relations, this comprehensive historical dictionary contains a series of in-depth essays which describe the diplomatic, political, and military developments sorrounding the Korean War.
The volume concentrates on the period of conventional war from the North Korean invasion of South Korea in June 1950 through the signing of the armistice agreement on July 27, 1953, although key developments prior to the formal outbreak of hostilities also receive attention.
Written by a distinguished group of contributors from eight countries, the entries cover all of the significant people, controversies, military operations, and policy pronouncements of the era. Entries are arranged in alphabetical order, with cross references in the text of each to assist users interested in learning about related items.
In certain subject areas entries appear in groups, such as battles, military operations, United Nations resolutions, and the activities of major participants, most notably Douglas MacArthur, Harry S.
Truman, and Syngman Rhee. References at the end of each entry serve as a guide for readers desiring additional information.
Throughout, the dictionary uses the spelling of Korean and Chinese names common at the time of the war to minimize confusion among non-specialists.
Six appendices provide statistical information, a personnel summary, a list of acronyms, a chronology of events, a selection of maps, and a bibliography.
The Historical Dictionary of the Korean War will be an excellent resource for public and academic libraries, historians, and students.
Information
Format: Hardback
Pages: 662 pages
Publisher: ABC-CLIO
Publication Date: 18/09/1991
Category: Reference works
ISBN: 9780313259241