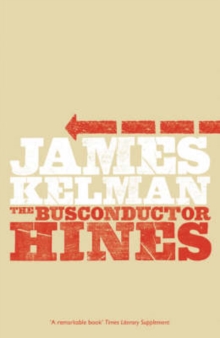 Busconductor Hines
Paperback
Description
Living in a bedsit, just coping with the boredom of being a busconductor, and fully aware that his plans to emigrate to Australia won't come to anything, Robert Hines is a young Glaswegian leading a pretty drab life.
There are compensations, however, in his wife and child, and his eccentric, anarchic imagination.
Kelman provides a brilliantly executed, uncompromising slice of Glasgow life - an intelligent, funny and humane novel.
It was first published by Polygon in 1984.
Information
Format: Paperback
Pages: 240 pages
Publisher: Birlinn General
Publication Date: 01/08/2007
ISBN: 9781846970399
Free Home Delivery
on all orders
Pick up orders
from local bookshops
Reviews
Showing 1 - 2 of 2 reviews.
Review by thorold
16/06/2015
A surprisingly funny account of life near the bottom of the heap in Glasgow. Written in the eighties, but probably drawing more on Kelman's experience in the seventies for its description of working life in a bus garage. As everyone says, it's Kelman's language that makes (or, depending on your point of view, breaks) the book: it's a wonderfully lively, bouncy, even lyrical, torrent of words that cleverly captures the flavour of the way working-class people in Glasgow speak without slavishly following the rules of any existing dialect. It's a similar technique to the one Anthony Burgess uses in <i>A clockwork orange</i>, giving Kelman the freedom to indulge in literary flights of fancy when he needs to, whilst avoiding confronting the reader with more strange words than he needs to produce the required degree of alienation. As Burgess demonstrated, the danger is that you get carried away with your own cleverness: Kelman's a bit more restrained, but he does occasionally go over the top, notably with the succession of wilder and wilder images he uses for the bus crews' green uniforms, ending up like pastiche Flann O'Brian. The story definitely takes second place to the language here, but for what it's worth it's an account of the paradoxical situation Hines finds himself in: to save his job and his marriage and get a decent place to live, Hines knows he needs to advance in life. He's an intelligent man, and is perfectly capable of acting in prudent and reliable ways if he wants to, but he understands that this would be a betrayal of an important part of his life, so he simply can't do it, any more than he can greet (i.e. weep) in public. He needs to stay at a level in life where he has so little that he's free to be irresponsible and jeopardise everything he has.
Review by sometimeunderwater
27/08/2015
Bleak, bitter and wonderfully humane. 1980's Glasgow sounds horrible.