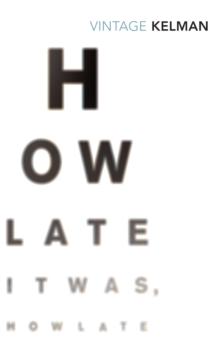 How Late It Was How Late
Paperback
Description
Sammy's had a bad week - his wallet's gone, along with his new shoes, he's been arrested then beaten up by the police and thrown out on the street - and he's just gone blind.
He remembers a row with his girlfriend, but she seems to have disappeared.
Things aren't looking too good for Sammy and his problems have hardly begun.
Information
Format: Paperback
Pages: 384 pages
Publisher: Vintage Publishing
Publication Date: 01/03/1995
ISBN: 9780749398835
Other Formats
Paperback from £5.99
EPUB from £4.99
Free Home Delivery
on all orders
Pick up orders
from local bookshops
Reviews
Showing 1 - 1 of 1 reviews.
Review by Ireadthereforeiam
27/08/2015
I have a thing for the Vintage publisher series of books- nice graphic design cover, red spines all lined up nicely together on my shelf. Plus, I am slowly working through old Booker Prize winners, so this 1994 book fit the bill on a few counts. But when I started reading it, I was disappointed to see that from the get-go it is written not only in colloquial Glaswegian (no speech marks or even full-stops sometimes), but also in a stream of consciousness style. YIKES I thought. But after a few pages these styles grew on me. I mean really grew. So much so in fact that I feel now that this story could not have been told in nearly such an effective way without them.We start (and end) with Sammy who is down and out. He wakes up with little memory of an alcohol-fueled weekend and spots some police officers who he decides to pick a fight with. So begins the story that is a week in the life of what sounds like a typical geezer from Glasgow. Only, very early on in this week or so of his life, Sammy goes blind. From this, let's face it, catastrophic event we get to see how Sammy copes with the fear and emotional turmoil that sets in with the realisation that he cannot, and may not ever see again. Because this revelation of his 'softer side' is written by his jumpy thoughts and many many swear words, it is so distinctive. I cant think of a time I have read such in-depth heart-felt commentary from such un-eloquent character. His thoughts jump from place to place, affectionately and angrily using the 'C' word to refer to all and sundry, revealing through repetition and just the volume of his head chatter his fears and feelings, his loves and his memories. He is alone. No one is offering help and he wouldn't take it if it were because of distrust of the establishment and his hatred of the monied upper classes. He manages OK, he always has and always will. It all adds up to a very deep book masquerading as the rantings of a down-trodden no-hoper.