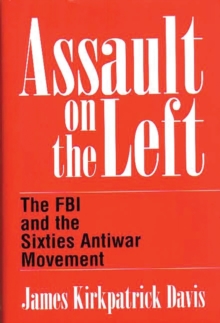 Assault on the Left : The FBI and the Sixties Antiwar Movement
Hardback
Description
The New Left was founded in 1962, and as a social and political protest movement, it captured the attention of the nation in the Sixties.
By 1968, the New Left was marching in unison with hundreds of political action groups to achieve one goal-the end of the war in Vietnam.
Under J. Edgar Hoover's direction, the FBI went from an intelligence collection agency during WWII, to an organization that tried to undermine protest movements like the New Left.
Hoover viewed the New Left as a threat to the American way of life, so in an enormous effort of questionable legality, the FBI implemented some 285 counter-intelligence (COINTELPRO) actions against the New Left.
The purpose of COINTELPRO was to infiltrate, disrupt, and otherwise neutralize the entire movement.
In truth, the FBI intended to wage war on the antiwar movement. In this real-life spy story-J. Edgar Hoover and his G-Men, wiretaps, burglaries, misinformation campaigns, informants, and plants-Davis offers a glimpse into the endlessly fascinating world of the Sixties.
Kent State, Columbia University, Vietnam Moratorium Day, the 1968 Democratic National Convention, the Cambodian invasion and March Against Death are all examined in this riveting account of the longest youth protest movement in American history.
This is the only book devoted entirely to the New Left COINTELPRO, and the first one written after the declassification of more than 6,000 counterintelligence documents that reveal the true nature and extent of the FBI's Assault on the Left.
Information
Format: Hardback
Pages: 240 pages
Publisher: ABC-CLIO
Publication Date: 22/04/1997
Category: History of the Americas
ISBN: 9780275954550
Free Home Delivery
on all orders
Pick up orders
from local bookshops