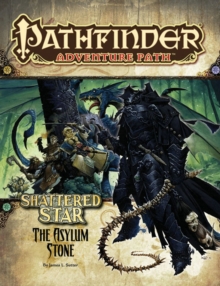 Pathfinder Adventure Path: Shattered Star Part 3 - The Asylum Stone
Paperback / softback
Description
The hunt for the seven shards of the Shattered Star continues, with theheroes following the trail across the face of Varisia and into the notoriousCity of Strangers - Kaer Maga!
There, the heroes encounter strange enemiesand stranger allies as their quest for the ancient Thassilonian artifactembroils them in the politics of Varisia's most exotic city.
What secrets liehidden in the dark and deadly realms deep under Kaer Maga, where things bestshunned from day's light and sane minds lie in wait?
Will the heroes survivetheir descent below, or will the Dark Rider claim their heads for hisever-growing collection?
Continuing the Shattered Star Adventure Path, The Asylum Stoneis a Pathfinder Roleplaying Game adventure for 7th-level characters. The Asylum Stone includes several short, bonus, city-based encounters andside-quests and a look at the strange factions of Kaer Maga.
New monsters fillthe Pathfinder Bestiary, while Bill Ward (Return of the Sword) continuesa new novella in the Pathfinder's Journal.
Information
Format: Paperback / softback
Pages: 96 pages
Publisher: Paizo Publishing, LLC
Publication Date: 13/11/2012
Category: Indoor games
ISBN: 9781601254696
Free Home Delivery
on all orders
Pick up orders
from local bookshops