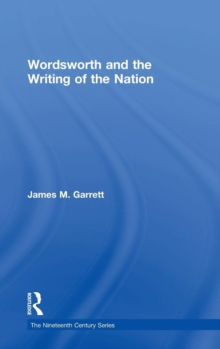 Wordsworth and the Writing of the Nation
Hardback
Description
Shedding fresh light on Wordsworth's contested relationship with an England that changed dramatically over the course of his career, James Garrett places the poet's lifelong attempt to control his literary representation within the context of national ideas of self-determination represented by the national census, national survey, and national museum.
Garrett provides historical background on the origins of these three institutions, which were initiated in Britain near the turn of the nineteenth century, and shows how their development converged with Wordsworth's own as a writer.
The result is a new narrative for Wordsworth studies that re-integrates the early, middle, and late periods of the poet's career.
Detailed critical discussions of Wordsworth's poetry, including works that are not typically accorded significant attention, force us to reconsider the usual view of Wordsworth as a fading middle-aged poet withdrawing into the hills.
Rather, Wordsworth's ceaseless reworking of earlier poems and the flurry of new publications between 1814 and 1820 reveal Wordsworth as an engaged public figure attempting to 'write the nation' and position himself as the nation's poet.
Other Formats
PDF from £40.49
EPUB from £40.49