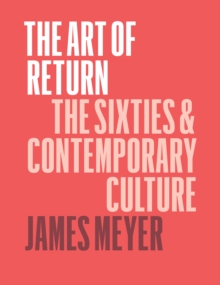 The Art of Return : The Sixties and Contemporary Culture
Hardback
Description
More than any other decade, the Sixties captures our collective cultural imagination. And while many Americans can immediately imagine the sound of Martin Luther King, Jr. declaring, "I Have A Dream," or envision hippies placing flowers in gun barrels while staring down the National Guard, the revolutionary Sixties resonate around the world: China's communist government inaugurated a new cultural era, African nations won independence from colonial rule, and students across Europe took to the streets calling for an end to capitalism, imperialism, and the brutality of the Vietnam War. In this highly original work, James Meyer turns to art criticism, theory, memoir, and fiction to examine the fascination with the long Sixties and contemporary expressions of these cultural memories across the globe.
Meyer draws on a diverse range of cultural objects that reimagine this revolutionary era stretching from the 1950s to the 1970s, including reenactments of civil rights, antiwar, and feminist marches, Cai Guo-Qiang's reconstructions of an iconic Cultural Revolution-era sculpture, and the television series Mad Men, to name only a few.
Many of these works were created by artists and writers born during the long Sixties, who are driven to understand a monumental era that they missed.
These cases show us that the past becomes significant only in relation to our present, and our remembered history, whether dark or glowingly nostalgic, never perfectly replicates time passed.
This, Meyer argues, is precisely what makes our contemporary attachment to the past so important: it provides us with a critical opportunity to examine our own relationship to history, memory, and nostalgia.
Free Home Delivery
on all orders
Pick up orders
from local bookshops