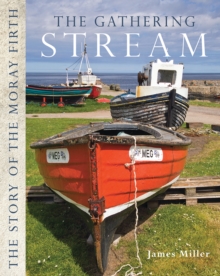 The Gathering Stream : The Story of Moray Firth
Paperback / softback
Description
The Moray Firth is the large triangle of sea that cuts into the north-east of Scotland.
The Vikings called it Breioafjoor, and to the Gaels it is Linne Mhoraibh.
Once a centre of Pictish power it became with its adjoining coasts a contested region, as Gaels, Norsemen, Norman knights, royal dynasties and clan warlords fought to win control of its fertile soil, its grain and its timber, its cattle and its fish, while burgh merchants struggled to maintain trade links with the rest of Britain and Europe.
In this struggle influences from the south prevailed to create the complicated conjunction between Highland and lowland that colours the region to this day.
Now the Firth lands are a test-bed for the economies of the future - renewable energy from wind farms, green tourism (the Firth is home to the world's most northerly population of bottlenose dolphins), and the sustainable exploitation of natural resources.
In this sweeping, fast-paced account of the Firth over the last two thousand years, James Miller explores how the great shifts in Scottish history and culture have impacted on its shores and its peoples, and how time has acted to gather disparate heritages into one.
Information
Format: Paperback / softback
Pages: 256 pages, Illustrations, black and white
Publisher: Birlinn General
Publication Date: 17/09/2012
Category: British & Irish history
ISBN: 9781780270951