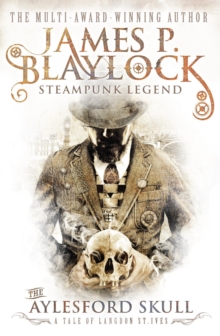 Aylesford Skull
Paperback
Description
Professor Langdon St. Ives brilliant but eccentric scientist and explorer is at home in Aylesford with his family.
Not far away a steam launch is taken by pirates, the crew murdered, and a grave is possibly robbed of the skull.
The suspected grave robber, the infamous Dr. Ignacio Narbondo, is an old nemesis of St. Ives. When Narbondo kidnaps his son Eddie, St. Ives races into London in pursuit.
Information
Format: Paperback
Pages: 400 pages
Publisher: Titan Books Ltd
Publication Date: 15/01/2013
Category: Fantasy
ISBN: 9780857689795
Free Home Delivery
on all orders
Pick up orders
from local bookshops
Reviews
Showing 1 - 3 of 3 reviews.
Review by readafew
16/06/2015
The Aylesford Skull is the 6th book in the Narbondo series. Since this is the only book in the series I've read, I have to ask why it is named after the villain? The main protagonist in the book is Langdon St. Ives, a British gentleman with some standing. St. Ives has been in most of the series it appears.Langdon has just completed an adventure to try and recover some property that was stolen from his Society, property the Society was planning on purchasing. The whole escapade ended poorly. He wants to spend time with his family and not go anywhere for a long time. Unfortunately, fate has other plans for him. Shortly after arriving home, his wife brings home a large Pike for lunch, and Langdon recognizes the smell of Hemlock, someone tried to poison the family. That very evening, after everyone went to bed, St. Ives young son Edward was kidnapped. I did enjoy this book, it was exciting from beginning to end. Langdon never seems to get more than a few hours to rest before he needs to be on the move again. It was an interesting adventure and I was constantly wondering what Narbondo's ultimate evil goal was. He always seemed to be about 3 steps ahead of everyone else trying to catch or stop him. His biggest asset was, he was totally ruthless and willing to prey on anyone elses weaknesses, whether they be compassion or love for someone or merely simple greed.The story runs all over the London area and every time you think Langdon or his friends are ahead and won a round, Narbondo is already to turn the tables and make them play another game. In many ways this was frustrating but the end was a satisfying one. Eventually I'll have to read some of the earlier books in the series. I also don't think that the series needs to be read from the beginning either.
Review by MaryAnn12
16/06/2015
I was first intrigued by the description, and the fact that it was a steampunk novel (I like steampunk). The book started out strong, with action almost from the first page. I liked the writing style, and I liked most of the characters that were introduced.<br/><br/>The book is a good adventure story, and aside from the adventure of it, there's also ghosts and necromancy, which is right up my alley, and I liked the way the supernatural elements of the story were weaved into the plot. I also liked that we got different perspectives from the different characters.<br/><br/>However, I felt that I was missing some backstory behind some of the characters, specifically between St. Ives and Narbondo. I understand that they are nemeses, and I know that without that aspect of their relationship in place there would be no plot (there would be no point in the kidnapping if there wasn't the drive for revenge on Narbondo's part), but the reason WHY they were nemeses was never really explained. It was touched on, and hinted at, but I didn't feel as though I got a really good explanation or history and that bothered me. I don't think it's a crucial aspect of it, and you don't really need it to enjoy the story, but I just kind of wished that I knew more about them.<br/><br/>While there were a lot of good scenes (and some scenes and lines that actually made me laugh-mostly involving St. Ives's friend Tubby, who was actually one of my favorite characters) I also felt that it dragged in places. I actually felt that quite a few scenes with St. Ives were the draggiest bits (except towards the end), and I enjoyed the scenes with Tubby and his comrades and Finn Conrad much more than the ones with St. Ives himself, which was a little disappointing considering that St. Ives is the main character.<br/><br/>All that being said though, I did really enjoy the book. It's a good book if you want something quick and fun to read-a "popcorn book" if you will. It's got good adventure elements and I think Blaylock did a good job with keeping the suspense and there were a lot of moments where I was on the edge of my seat wondering how it was going to turn out. The characters were well developed and I liked that there were some scenes from Narbondo's point of view.<br/><br/>So overall, I enjoyed the book, I think it's a fun adventure.
Review by polarbear123
16/06/2015
The first steampunk novel I have read. Like others I was slightly confused. Is this the first book? Have we not got the full series here in the UK? Some questions that need answering then. All in all this was an interesting read and a good adventure story. I will probably read another one. Did it blow me away though? no - and after a recommendation by Philip K. Dick as well!