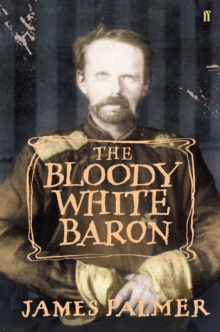 The Bloody White Baron
Hardback
Description
Roman Ungern von Sternberg was a Baltic aristocrat, a violent, headstrong youth posted to the wilds of Siberia and Mongolia before the First World War.
After the Bolshevik Revolution, the Baron - now in command of a lethally effective rabble of cavalrymen - conquered Mongolia, the last time in history a country was seized by an army mounted on horses.
He was a Kurtz-like figure, slaughtering everyone he suspected of irreligion or of being a Jew. And his is a story that rehearses later horrors in Russia and elsewhere.
James Palmer's book is an epic recreation of a forgotten episode and will establish him as a brilliant popular historian.
Information
Format: Hardback
Pages: 288 pages
Publisher: Faber & Faber
Publication Date: 01/03/2008
Category: General & world history
ISBN: 9780571230235
Other Formats
Paperback from £9.49
EPUB from £7.98
Free Home Delivery
on all orders
Pick up orders
from local bookshops
Reviews
Showing 1 - 2 of 2 reviews.
Review by redcrowstudio
16/06/2015
I've been fascinated by this period of Mongolian history ever since I found a musty old copy of Ossendowski's <i>Beasts, Men and Gods</i> in a used bookstore years ago, so I was very happy to find a new look at those times in this book. Finding sources or historical writing on this period is difficult, at least here in the US, since Outer Mongolia almost seems to be a fictitious country in itself. Fortunately, James Palmer has travelled the East and waded through the various scraps and pieces of its history and pulled together a picture of a fascinating, if horrendous, figure who stamped his mark upon the era. Ossendowski's book, while purportedly true, reads like a pulp adventure novel, and his account of Baron Ungern certainly makes a modern reader believe that he must have been made up. Not so, of course. The Baron, or Bloody Baron, or Bloody Mad Baron, as he has variously been called, was all too real a person, and his insane, murderous actions were all too common during this period.There is a perception in the modern West that Buddhism is perhaps unique amongst the world's major faiths in not lending itself to the kinds of wars and conflicts that, for example, Christianity and Islam have been such prominent players in. And while its certainly true that Buddhism has been a relatively peaceful religion, history, and certainly this history, shows how even the dharma can be turned towards violence, and how ethnic divisions, superstitions and unjust conditions can be exploited by cunning leaders to turn even the most peaceful doctrine into a permission for bloody conflict. Ungern was a curious mix of Christian, occultist and mystical Buddhist wannabe, driven by a belief in prophecy and armoring himself with magical charms (who can say they didn't work? He certainly never took a bullet on the battlefield with those charms hanging from his neck). In some ways the template for the kind of Aristocratic European Occultist that would later become such a stock character by way of the Nazis, his life and exploits make for fascinating reading, even if only as a cautionary tale about the kind of beast that wars and prejudice can create out of man. My only complaint about this book is the lack of photographs. The author describes a number of photos of the Baron at various points in his story, but none of them are included outside of the dust jacket. I hope the publisher can add these in future editions.
Review by xuebi
16/06/2015
An even less known period of a little-known period of history, the effects of the Chinese Revolution and the Russian Civil War in Mongolia is dealt expertly by Palmer, who tries to understand not only the period of history, but the motivations and character of a frightening man. Combining history with first-hand accounts of the author's trip to Mongolia, the book reads like a thriller.