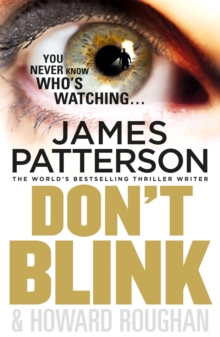 Description
Reporter Nick Daniels is conducting a once-in-a-lifetime interview with an infamous celebrity recluse in a renowned New York restaurant.
But the interview is cut short by a horrific murder that takes place just yards from their table.
The assassin escapes as quickly as he entered, leaving behind him a chaotic scene and a bloody corpse. While Nick is reviewing the tapes from his interview, he stumbles upon a piece of evidence that could be crucial to the murder investigation.
But something about the whole scenario doesn't fit together.
As Nick investigates the clues for himself, he realises that someone is watching his every move - and they will stop at nothing to prevent Nick from discovering the truth.
Information
Format: Paperback
Pages: 496 pages
Publisher: Cornerstone
Publication Date: 01/02/2011
ISBN: 9780099553724
Other Formats
CD-Audio from £8.19
EPUB from £3.99
eAudiobook MP3 from £8.00
Free Home Delivery
on all orders
Pick up orders
from local bookshops
Reviews
Showing 1 - 4 of 4 reviews.
Review by tabitha6
16/06/2015
Don't Blink is by far one of my favorite James Patterson books. He shows more humpor in his characters that he does Alex Cross or Michael Bennett. I love those series a well but I really enjoyed Don't Blink. It was an easy, fun read and I hope he writes more with this humor.
Review by mikedraper
16/06/2015
As I read this novel I expected flash words from old Batman and Robin comic books, POW, SMACK.Bruno Torenzi kills attorney Vincent Marcozza at a New York restaurant then shoots two New York Police Officers who were trying to arrest him. BANG, BANG.Reporter, Nick Daniels had been about to conduct an interview at a nearby table. He goes home and turns on his recorder and hears the voice of the killer. "I have a message from Eddie, Justice has no eyes." GULP.Nick knows that Marcozza was a lawyer for Eddie Pinero. The word is that Pinero ordered the hit because Marcozza failed to get him off on a loansharking charge.BOO HOO.Nick takes the evidence to the New York District attorney and things begin to happen in rapid succession. Torenzi is celebrating with a high priced porstitute when her Russian brothers enter the room thinking they will rob a nervous john. Instead, Torenzi reaches for his own gun and does them in. MOMMA.There are the usual colorful descriptions as police "barked," and killers have 'twisted grins."The book jacket describes this as a war between the Italian and Russian Mafia. The Russian Mafia has such a small part in this story that it's almost meaningless.OOPS!The novel is stimulating and the plot moves along swiftly as we follow Nick bungle his way from one near disaster to another while he attempts to solve the crime. WHACK!
Review by SonicQuack
16/06/2015
There's not much originality in this fast paced crime thriller. Man witnesses murder; becomes target. Patterson adds the obligatory twists as he rushes through at breakneck speed, however implausibility distracts the flow on more than one occasion. The characterisation is below Patterson's usual standard since most of the narrative is used to create a level of intrigue, mostly by stonewalling the reader. Quite simply the novel doesn't succeed on any level. That said, it's short enough to see it through and it's entirely forgettable, it's still a piece of trashy fun.
Review by Tony2704
27/08/2015
Ok but seemed to go on a bit, ending was predictable, however a decent read and made a change from Pattersons' other literature