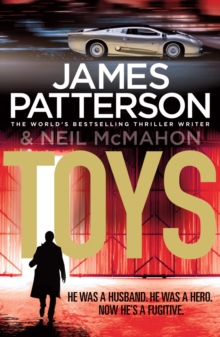 Description
Hays Baker and his wife Lizbeth possess super-human strength, extraordinary intelligence, stunning looks, and two beautiful children.
Of course they do - they're Elites, endowed at birth with the very best that the world can offer.
The only problem in their perfect world: humans. The top operative for the Agency of Change, Hays has just won the fiercest battle of his career.
He has been praised by the President, and is a national hero.
But before he can savour his triumph, he receives an unbelievable shock that overturns everything he thought was true.
Suddenly Hays is on the other side of the gun, forced to leave his perfect family and fight for his life. Now a hunted fugitive, Hays is thrown into an existence he never dreamed possible - fighting to save humans from extinction.
Information
Format: Paperback
Pages: 480 pages
Publisher: Cornerstone
Publication Date: 01/01/2012
Category: Thriller / suspense
ISBN: 9780099550075
Other Formats
CD-Audio from £8.19
EPUB from £4.99
eAudiobook MP3 from £8.00
Free Home Delivery
on all orders
Pick up orders
from local bookshops
Reviews
Showing 1 - 2 of 2 reviews.
Review by Nataliec7
27/08/2015
** spoiler alert ** Well this isn't a book I expected from Patterson. It is written with another author, Neil McMahon. Its about a world with Elites. These Elites have super-human strength, are superbly intelligent and are gorgeous. Oh Yeah, and they hate humans. Their idea of a perfect worls is one with out humans, or as they are affectionately known in this book - Skunks!Hays Baker and his wife Lizbeth are such Elites and work for the agency of change. They have a great life and 2 beautiful children who were conceived in a lab over the course of 2 years, the Elite way obviously. Hays is a top agent for the agency of change and has been recognised and praised by the president as a national hero. One night on the way home from a function, Hays and Lizbeth are atacked by skunks. Hays lets one of them get away - shes a woman. Then although its his night off he gets called to a massacre of eleven executives of Toys inc and no one saw a thing. Hays then starts lookingfor the people who have done this, finds them but becomes seriously injured. At the hospital, just before Hays loses conciousness, the doctors find an unbilicus. Hays is Human! From this point on, Hays is the enemy.From this point on, the book is preety action packed. Lots of twists and turns, new character. Hays finding out about his life, parents etc. Its wasn't what i was expecting but I enjoyed it lots. It's a well writtne book and you have to use your imagination a little but the storyline is well pulled off.Thanks Patterson, I enjoyed this.
Review by Tony2704
27/08/2015
Totally unexpected, not a lover of futuristic books as a rule but here maintains the suspense in his normal manner. Really good read