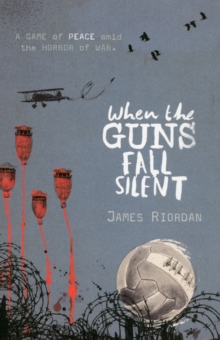 When the Guns Fall Silent
Paperback
Description
Jack, standing among the war graves, sees a face he recognizes.
Suddenly, it's 1914 again and he's a young lad back in the trenches.
Visions of killing and misery come to him with horrible clarity. But then Jack remembers too the incredible moment when the guns fell silent for a short time, and fighting gave way to football on the frozen ground of No-Man's-Land. This amazing story, based on true facts from the First World War, will transport readers back to the war fields of France and show that even in times of conflict and extreme sadness, there is always hope.
Information
Format: Paperback
Pages: 176 pages
Publisher: Oxford University Press
Publication Date: 07/11/2013
Category: Adventure
ISBN: 9780192735706
Other Formats
EPUB from £4.54
Paperback from £9.25
eAudiobook MP3 from £14.28
Free Home Delivery
on all orders
Pick up orders
from local bookshops
Reviews
Showing 1 - 1 of 1 reviews.
Review by passion4reading
16/06/2015
Jack Loveless is sixteen years old and loves football. When news of the war with Germany filters through on 4 August 1914, Jack and his best friend Harry's first thoughts are that they might finally be given an opportunity to play for Pompey, Portsmouth's football club. But the authorities decide that, with trainers in short supply, combining football practice and military drill seems like a good idea. After a short stint at Aldershot Barracks for disobeying orders, Jack and Harry, along with their old school friend Freddie, find themselves enlisting and are on their way to France.Dedicated to the author's grandfather, who fought in the conflict, and his grandson, this timely republication to coincide with the 100th anniversary of the outbreak of the First World War was clearly written for a young readership and at times feels very personal. Set out as a framed narrative, the main portion of this novella takes place in the last few months of 1914, with events in 1964, with the now elderly Jack and his grandson, setting the scene at the beginning and providing a poignant conclusion. James Riordan captures the atmosphere very well: initial idealism, innocence and naivety giving way to horror, bitterness and resignation. The descriptions of the conflict, both in the trenches as well as at camp and in the hospital, are very graphic and might not be suitable for younger or very sensitive children, even turning my stomach on more than one occasion. The author takes great pains to portray the Germans not as the enemy as such, but as ordinary men and soldiers following orders, leading up to the Christmas Truce football match that has entered the history books. Where he is less balanced is in the portrayal of the officers, who I felt fall into the – now largely outdated view, surely? – of stupid upper-class toffs completely removed from the day-to-day warfare in the trenches and having a cosy old time back at the chateau, playing fencing matches with their public-school pals. This perpetuation of a stereotype, a rather unlikely coincidence at the beginning and an in my view improbable situation in the trenches towards the end of the book aside, this is a well-written account of the horrors and effects of war on teenagers, who enlisted without any idea what they were letting themselves in for, many probably not much older than the target audience.This edition features excerpts from famous, and not so famous, war poets, as well as sayings and songs of the day, adding an extra dimension and authenticity to the narrative. From a purely literary point of view, confident readers of 10+ years shouldn't have any problems with this book, but because of the harrowing subject matter, a reading age of 12–13 might probably be more advised.(This review was first written as part of Amazon's Vine programme.)