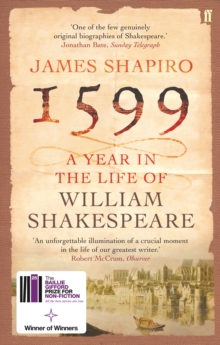 1599: a Year in the Life of William Shakespeare
Paperback
Description
This work presents an intimate history of Shakespeare, following him through a single year that changed not only his fortunes, but the course of literature.
How did Shakespeare go from being a talented poet and playwright to become one of the greatest writers who ever lived?
In this one exhilarating year, we follow what he reads and writes, what he saw, and who he worked with as he invests in the new Globe theatre and creates four of his most famous plays - "Henry V", "Julius Caesar", "As You Like It", and, most remarkably, "Hamlet".
This book brings the news, intrigue and flavour of the times together with wonderful detail about how Shakespeare worked as an actor, businessman, and playwright, to create an exceptionally immediate and gripping account of an inspiring moment in history.
Information
Format: Paperback
Pages: 464 pages
Publisher: Faber & Faber
Publication Date: 06/04/2006
Category: Biography: literary
ISBN: 9780571214815
Free Home Delivery
on all orders
Pick up orders
from local bookshops
Reviews
Showing 1 - 3 of 3 reviews.
Review by johnthefireman
16/06/2015
I find this a creative way of writing about history and biography. The author examines a single year in the life of Shakespeare and his environment, and 1599 was certainly a busy year for him and an interesting one for England. It deepened my knowledge not only of Shakespeare himself and contemporary writers, but of Elizabethan London and England. I gained new insights into Ireland, France, Spain and even ancient Rome. It's quite a wholistic way of writing.
Review by MikeFarquhar
16/06/2015
1599: A Year in the Life of William Shakespeare is a book I've been meaning to get around to for ages. James Shapiro is a Professor at Columbia University in New York, who has taken what relatively little we know of the life of Shakespeare, and woven it together with the detailed history of 1599 to create a vivid account of one year in his life. Quite apart from Shakespeare, it's a fascinating period in English history, as the Elizabethean Era drew to a close and a sense of uncertainty hanging everywhere, and Shapiro uses Shakespeare to illustrate that perfectly, just as his plays reflected it at the time.As well as being a significant year in the history of England, 1599 Shapiro makes a strong argument for 1599 being the fulcrum point on which Shakespeare's reputation tunred; it was the year the Globe was built, the year he insisted on - and won - changes to long-standing traditions in English theatre (effectively allowing it to become a more serious medium), the year he wrote Julius Caesar, Henry V, As You Like It and Hamlet. Shapiro has the skill of taking history and giving it the force of a novel, but he doesn't cross the line into fictionalisation - when he's not sure of something, or is making an educated guess, he tells you.The result is a book that sucks you into both the life of both Shakespeare and Elizabethean England for a year and works both as an excellent history, and as a novel-like story.
Review by Roseredlee
27/08/2015
So, this book has been waiting on my shelves a long while for the receptive reading moment (you know how it is when you really, really know you are going to enjoy a book but the time has to be right). I have been growing increasingly fascinated by the idea of biography (see The Stranger's Child and any early biography of Rupert Brooke), plus the ever-shifting emphasis on interpretation of works based on lives.I was very impressed by Shapiro's 1599 and this book, though tangential to the plays, is just as fascinating (he should stick to academia and book-writing though; he's an unimpressive t.v. presenter with a headache-inducing voice). From the clever play on words of the title onwards, Shapiro writes refreshingly jargon-free readable prose as he presents the case for Shakespeare as the author of his plays, and describes the history of the various opposing theories and candidates. We see the growing need to identify the life with the work, to give to the Tudors modern sensibilities. Most of all, we see a refusal to accept that a glovemaker's son could have the imagination to piece out his imperfections with his thought; a snobbish, patronising attitude that belittles the fine grammar-school education of the time and the passionate curiosity that continues lifelong self-education (indeed, one is led to think that Sir Derek et al. have had their brains abducted by aliens...and sadly, I have to include my beloved Henry James here). Shapiro describes how the Baconians and Oxfordians etc. had practically given up their ghosts in the late 50s, when, astonishingly, the anti-Wills suddenly gained academic credence and are apparently being taught in degree courses. It has also become acceptable in academic circles to read the life from the work, and i am now questioning my unquestioning acceptance of Greenblatt's Will in the World and wonderful Michael Wood's Shakespeare t.v. series, both of which interpreted Shakespeare in this way. Another point raised which I find uncomfortably close to home is that the obsession with literary lives stops us reading the actual works, or as Shapiro more elegantly – and topically in this year of the 50th anniversary of The Bell Jar -- puts it: 'many literary biographies are supplanting the fictional works they are meant to illuminate, to the point where Ariel and The Bell Jar struggle to find a readership that books about Sylvia Plath's marriage and suicide now command'. Later in the same chapter he makes another important point: 'In the end, attempts to identify personal experiences will result only in acts of projection, revealing more about the biographer than about Shakespeare himself'. Shapiro makes telling points about our general growing scepticism and the belief in conspiracy theories leading to a readiness to imagine all sorts of bizarre ideas about various secret children of Elizabeth (if only the dates could be manipulated, as so many have been in the course of fitting Oxford and others to the playwright's role, so that Shakespeare could have been one, farmed out to the glovemakers' family!). An excellent, thoroughly-researched and absorbing piece of literary detective work.