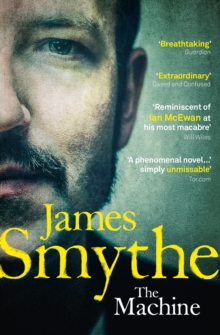 Description
Shortlisted for the Arthur C Clarke Award 2014, this is a Frankenstein tale for our time from one of the UK's brightest new literary talents.Vic returned from war tormented by his nightmares.
His once happy marriage to Beth all but disintegrated.
A machine promised salvation, purging him of all memory.Now the machines are gone, declared too controversial, the side-effects too harmful.
But within Beth's flat is an ever-whirring black box.
She knows that memories can be put back and that she can rebuild her husband piece by piece.A Frankenstein tale for the 21st century, The Machine is a story of the indelibility of memory, the human cost of science and the horrors of love.
Information
Format: Paperback
Pages: 328 pages
Publisher: HarperCollins Publishers
Publication Date: 16/01/2014
ISBN: 9780007507504
Other Formats
EPUB from £2.99
Paperback from £7.15
Free Home Delivery
on all orders
Pick up orders
from local bookshops
Reviews
Showing 1 - 5 of 5 reviews.
Review by greatbookescapes
16/06/2015
Beth wants her marriage and husband back. Returned from war mentally damaged, she agrees to let the Machine heal him by purging his memory of the horrors of his experience in the war. Complicit in the treatment he now remains in a home for those left in a 'vacant' state following the treatment. Machines were scrapped following the controversy of the side effects after use. Beth has a plan and buys an Machine illegally to restore Vic her husband. <br/><br/>I like how Smythe has set this story on the Isle of Wight and Portsmouth because it brings a realism to the tale as I know both areas well. <br/><br/>This is a complex book written in simple layers using language that makes you think about its meaning. It questions the mind and memory, it brings a fear of the future and how in creating 'healthy' minds danger of what could be created instead. <br/><br/>At first I was eager to rush and read the story, but Beth draws you into her world slows you down and then I wanted to explore the tale more thoroughly. <br/><br/>The environment, society and personalities are depicted in such a plausible manner that I could almost feel the tiredness of such heat and the hopelessness of daily life. <br/>Smythe gives lines that are simply perfect such as the school trip with reluctant teachers and pupils to: <br/> "the Barrage Exhibition Centre, built in what used to be an art museum above a McDonald's"<br/>This is such a brilliant line. (There is a real Museum of Communism which is next door to a casino and above a McDonald's in Prague that I have visited!) <br/><br/>I can completely identify with Smythe's vision of the future and his irony.<br/><br/>The final chapter of the book is a surprise and worth the read.<br/><br/>I would recommend this book as an excellent read, one which will leave questions in your mind after you put it down.<br/>
Review by greatbookescapes
16/06/2015
Beth wants her marriage and husband back. Returned from war mentally damaged, she agrees to let the Machine heal him by purging his memory of the horrors of his experience in the war. Complicit in the treatment he now remains in a home for those left in a 'vacant' state following the treatment. Machines were scrapped following the controversy of the side effects after use. Beth has a plan and buys an Machine illegally to restore Vic her husband. <br/><br/>I like how Smythe has set this story on the Isle of Wight and Portsmouth because it brings a realism to the tale as I know both areas well. <br/><br/>This is a complex book written in simple layers using language that makes you think about its meaning. It questions the mind and memory, it brings a fear of the future and how in creating 'healthy' minds danger of what could be created instead. <br/><br/>At first I was eager to rush and read the story, but Beth draws you into her world slows you down and then I wanted to explore the tale more thoroughly. <br/><br/>The environment, society and personalities are depicted in such a plausible manner that I could almost feel the tiredness of such heat and the hopelessness of daily life. <br/>Smythe gives lines that are simply perfect such as the school trip with reluctant teachers and pupils to: <br/> "the Barrage Exhibition Centre, built in what used to be an art museum above a McDonald's"<br/>This is such a brilliant line. (There is a real Museum of Communism which is next door to a casino and above a McDonald's in Prague that I have visited!) <br/><br/>I can completely identify with Smythe's vision of the future and his irony.<br/><br/>The final chapter of the book is a surprise and worth the read.<br/><br/>I would recommend this book as an excellent read, one which will leave questions in your mind after you put it down.<br/>
Review by greatbookescapes
16/06/2015
Beth wants her marriage and husband back. Returned from war mentally damaged, she agrees to let the Machine heal him by purging his memory of the horrors of his experience in the war. Complicit in the treatment he now remains in a home for those left in a 'vacant' state following the treatment. Machines were scrapped following the controversy of the side effects after use. Beth has a plan and buys an Machine illegally to restore Vic her husband. <br/><br/>I like how Smythe has set this story on the Isle of Wight and Portsmouth because it brings a realism to the tale as I know both areas well. <br/><br/>This is a complex book written in simple layers using language that makes you think about its meaning. It questions the mind and memory, it brings a fear of the future and how in creating 'healthy' minds danger of what could be created instead. <br/><br/>At first I was eager to rush and read the story, but Beth draws you into her world slows you down and then I wanted to explore the tale more thoroughly. <br/><br/>The environment, society and personalities are depicted in such a plausible manner that I could almost feel the tiredness of such heat and the hopelessness of daily life. <br/>Smythe gives lines that are simply perfect such as the school trip with reluctant teachers and pupils to: <br/> "the Barrage Exhibition Centre, built in what used to be an art museum above a McDonald's"<br/>This is such a brilliant line. (There is a real Museum of Communism which is next door to a casino and above a McDonald's in Prague that I have visited!) <br/><br/>I can completely identify with Smythe's vision of the future and his irony.<br/><br/>The final chapter of the book is a surprise and worth the read.<br/><br/>I would recommend this book as an excellent read, one which will leave questions in your mind after you put it down.<br/>
Review by greatbookescapes
16/06/2015
Beth wants her marriage and husband back. Returned from war mentally damaged, she agrees to let the Machine heal him by purging his memory of the horrors of his experience in the war. Complicit in the treatment he now remains in a home for those left in a 'vacant' state following the treatment. Machines were scrapped following the controversy of the side effects after use. Beth has a plan and buys an Machine illegally to restore Vic her husband. <br/><br/>I like how Smythe has set this story on the Isle of Wight and Portsmouth because it brings a realism to the tale as I know both areas well. <br/><br/>This is a complex book written in simple layers using language that makes you think about its meaning. It questions the mind and memory, it brings a fear of the future and how in creating 'healthy' minds danger of what could be created instead. <br/><br/>At first I was eager to rush and read the story, but Beth draws you into her world slows you down and then I wanted to explore the tale more thoroughly. <br/><br/>The environment, society and personalities are depicted in such a plausible manner that I could almost feel the tiredness of such heat and the hopelessness of daily life. <br/>Smythe gives lines that are simply perfect such as the school trip with reluctant teachers and pupils to: <br/> "the Barrage Exhibition Centre, built in what used to be an art museum above a McDonald's"<br/>This is such a brilliant line. (There is a real Museum of Communism which is next door to a casino and above a McDonald's in Prague that I have visited!) <br/><br/>I can completely identify with Smythe's vision of the future and his irony.<br/><br/>The final chapter of the book is a surprise and worth the read.<br/><br/>I would recommend this book as an excellent read, one which will leave questions in your mind after you put it down.<br/>
Review by greatbookescapes
16/06/2015
Beth wants her marriage and husband back. Returned from war mentally damaged, she agrees to let the Machine heal him by purging his memory of the horrors of his experience in the war. Complicit in the treatment he now remains in a home for those left in a 'vacant' state following the treatment. Machines were scrapped following the controversy of the side effects after use. Beth has a plan and buys an Machine illegally to restore Vic her husband. <br/><br/>I like how Smythe has set this story on the Isle of Wight and Portsmouth because it brings a realism to the tale as I know both areas well. <br/><br/>This is a complex book written in simple layers using language that makes you think about its meaning. It questions the mind and memory, it brings a fear of the future and how in creating 'healthy' minds danger of what could be created instead. <br/><br/>At first I was eager to rush and read the story, but Beth draws you into her world slows you down and then I wanted to explore the tale more thoroughly. <br/><br/>The environment, society and personalities are depicted in such a plausible manner that I could almost feel the tiredness of such heat and the hopelessness of daily life. <br/>Smythe gives lines that are simply perfect such as the school trip with reluctant teachers and pupils to: <br/> "the Barrage Exhibition Centre, built in what used to be an art museum above a McDonald's"<br/>This is such a brilliant line. (There is a real Museum of Communism which is next door to a casino and above a McDonald's in Prague that I have visited!) <br/><br/>I can completely identify with Smythe's vision of the future and his irony.<br/><br/>The final chapter of the book is a surprise and worth the read.<br/><br/>I would recommend this book as an excellent read, one which will leave questions in your mind after you put it down.<br/>