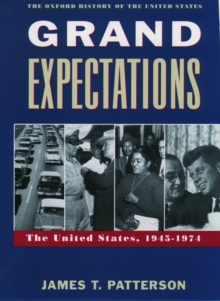 Grand Expectations : The United States, 1945-1974
Paperback
Description
Beginning in 1945, America rocketed through a quarter-century of extraordinary economic growth, experiencing an amazing boom that soared to unimaginable heights in the 1960s.
At one point, in the late 1940s, American workers produced 57 percent of the planet's steel, 62 percent of the oil, 80 percent of the automobiles.
The U.S. then had three-fourths of the world's gold supplies.
English Prime Minister Edward Heath later said that the United States in the post-War era enjoyed "the greatest prosperity the world has ever known." It was a boom that produced a national euphoria, a buoyant time of grand expectations and an unprecedented faith in our government, in our leaders, and in the American dream-an optimistic spirit which would be shaken by events in the '60s and '70s, and particularly by the Vietnam War.
Now, in Grand Expectations, James T. Patterson has written a highly readable and balanced work that weaves the major political, cultural, and economic events of the period into a superb portrait of America from 1945 through Watergate. Here is an era teeming with memorable events-from the bloody campaigns in Korea and the bitterness surrounding McCarthyism to the assassinations of the Kennedys and Martin Luther King, to the Vietnam War, Watergate, and Nixon's resignation.
Patterson excels at portraying the amazing growth after World War II-the great building boom epitomized by Levittown (the largest such development in history) and the baby boom (which exploded literally nine months after V-J Day)-as well as the resultant buoyancy of spirit reflected in everything from streamlined toasters, to big, flashy cars, to the soaring, butterfly roof of TWA's airline terminal in New York. And he shows how this upbeat, can-do mood spurred grander and grander expectations as the era progressed.
Of course, not all Americans shared in this economic growth, and an important thread running through the book is an informed and gripping depiction of the civil rights movement-from the electrifying Brown v.
Board of Education decision, to the violent confrontations in Little Rock, Birmingham, and Selma, to the landmark civil rights acts of 1964 and 1965. Patterson also shows how the Vietnam War-which provoked LBJ's growing credibility gap, vast defense spending that dangerously unsettled the economy, and increasingly angry protests-and a growing rights revolution (including demands by women, Hispanics, the poor, Native Americans, and gays) triggered a backlash that widened hidden rifts in our society, rifts that divided along racial, class, and generational lines. And by Nixon's resignation, we find a national mood in stark contrast to the grand expectations of ten years earlier, one in which faith in our leaders and in the attainability of the American dream was becoming shaken.
Grand Expectations is the newest volume in the prestigious Oxford History of the United States.
The earlier releases were highly acclaimed, and one, Battle Cry of Freedom, was both a New York Times bestseller and a winner of the Pulitzer Prize.
Patterson's volume takes its rightful place beside these distinguished works.
It is a brilliant summation of the years that created the America that we know today, a time of setbacks amid unmatched and lasting achievements.
Information
Format: Paperback
Pages: 880 pages, 32 pp halftone plates, maps
Publisher: Oxford University Press Inc
Publication Date: 20/11/1997
Category: History of the Americas
ISBN: 9780195117974
Free Home Delivery
on all orders
Pick up orders
from local bookshops
Reviews
Showing 1 - 3 of 3 reviews.
Review by Angelic55blonde
16/06/2015
It's a grand book. I love James T. Patterson and his research is thorough. It's a long book but well worth it.
Review by annbury
16/06/2015
James Patterson's history of the U.S. in the post war era is an excellent omnibus overview of the period, covering a wide range of trends and themes, and bringing personalities vividly to life. Despite its considerable length, it is eminently readable, with an extensive index and a helpful bibliographic essay at the end. All this makes it a worthy entry in the magisterial Oxford history of the U.S., if perhaps bit less gripping than a few other entries in the series -- McPherson's "Battle Cry of Freedom", and Kennedy's "Freedom from Fear". Two possible explanations for this may be worth noting. First, in a narrative sense, the period itself did not have a single focus like the Civil War or the Depression, but rather a multiplicity of themes. Patterson's trope of "grand expectations" is a good marker for American attitudes at mid-century, but there were as he demonstrates several sets of grand expectations at work. Secondly, this is recent history -- within the memory of many readers (including this one), and lacking perhaps the advantages of distance. "Grand Expectations" explores events from 1945 -- when the U.S. was unquestionably 'top country' -- to Watergate, when the country seemed to many to be coming undone. Patterson examines the period from several perspectives. Certainly, he explores domestic and international political patterns, but also goes into cultural and economic trends. This makes it a richer and more nuanced work than many standard histories, which are too often political narratives of who did what to whom. Not that Patternson is short on who and whom. His political portraits are vivid and often show how leaders' personalities interacted with events to produce specific outcomes. Patterson's discussion of Lyndon Johnson's policies brings out what some might consider the tragedy of Ol' Lyndon,, while his discussion of the Nixon/Eisenhower relationship almost made me sympathize with Tricky Dick. He gives the struggle for civil rights its rightful place, putting it at the center of the changes that overtook America in the 1960's, as the key instance of the "rights revolution" that affected so many areas of American life. In a work with so wide a scope, some readers may well feel that some themes, or events, or personalities have been short-changed. And in a work which clearly strives for balance. some may feel that the approach on certain still-contentious issues is too tepid. Overall, however, this book provides a compelling narrative of a critical period. And those of us who lived through the period may find it particularly interesting. Several times in reading this book, I had "ah-ha!" moments -- so that's what was really going on.
Review by NewsieQ
16/06/2015
Although I prefer reading history books that are focused on a particular person, event, or theme, once in awhile, it's good to get an overview of an era. And there's no better series for that than the Oxford History of the United States. The last one I read was What Hath God Wrought: The Transformation of America, 1815-1848 – the Jacksonian era. This time I chose more recent times – from 1945 to 1974: the nuclear attack on Japan; McCarthyism; the Civil Rights and Voting Rights Acts; political assassinations; the women's movement; the first men on the moon; Vietnam; the Pentagon Papers and Watergate. Just when I had gotten to the point when I thought our world was going crazy, I'm reminded that there are crazy times for every generation. Our Congress and nation may be divided today, but it's no worse today than in the 1960s. We may be in a quagmire of war (two or more really), with thousands being killed in a foreign land, but we've been there before. And probably will be again. At least today's soldiers are volunteers, not the poor (in more than one sense) draftees that fought the war in Vietnam. Reading history does put things into perspective.Reading history usually has me clamoring for more. Last week, I ordered from Netflix a DVD that included the Edward R Murrow "See It Now" shows dealing with McCarthy. It was enlightening and more than a little scary. That man was CRAZY. And I now plan to tackle a book on Watergate that's been sitting gathering dust in my bookcase. All in all Grand Expectations was a satisfying read. I limited myself to one chapter a day, so it took me 25+ days to read it. It was well worth the time.
Also in the Oxford History of the United States series | View all