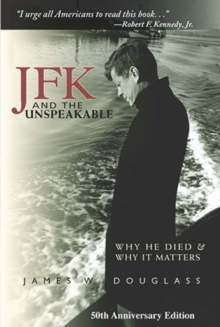 JFK and the Unspeakable : Why He Died and Why it Matters
Hardback
Description
In this fascinating and disturbing work, James Douglass presents a compelling account of the assassination of President John F.
Kennedy and why unmasking and accepting this truth remains crucial for the future of our country and the world.
The title comes from a phrase of Thomas Merton, naming of the attitudes, forces and interests that generate and support international tension and conflict.
Drawing on a vast field of investigations, including many sources available only recently, Douglass lays out a sequence of of steps over the last three years of his life that transformed JFK from a traditional "Cold Warrior" to someone determined to pull the world back from the edge of nuclear apocalypse.
Beginning with the fiasco of the Bay of Pigs invasion (which left the President wishing to "splinter the CIA in a thousand pieces"), followed by the Cuban Missile Crisis and his secret back-channel dialogues with Soviet Premier Nikita Khrushchev, JFK pursued a series of actions--right up to the week of his death--that caused members of his own U.S. military-intelligence establishment to regard him as a virtual traitor who had to be eliminated. As the 50th anniversary of Kennedy's assassination approaches, the story of why he was killed--his turn toward peace--is not ancient history, and bears crucial lessons for today in the light of a decade of war and continuing revelations of clandestine national security and military activities.
Douglass shows convincingly how those who plotted the death of JFK were determined not simply to eliminate a single man but to kill a vision.
Douglass's book has all the elements of a political thriller.
But the stakes couldn't be higher. Only by understanding the truth behind the murder of JFK can we grasp his vision and assume the urgent struggle for peace today. "In JFK and the Unspeakable Jim Douglass has distilled all the best available research into a very well-documented and convincing portrait of President Kennedy's transforming turn to peace, at the cost of his life. Personally, it has made a very big impact on me. After reading it in Dallas, I was moved for the first time to visit Dealey Plaza. I urge all Americans to read this book and come to their own conclusions about why he died and why--after fifty years--it still matters." -- Robert F.
Kennedy, Jr.
Information
Format: Hardback
Pages: 544 pages
Publisher: Orbis Books (USA)
Publication Date: 20/05/2008
Category: Ethics & moral philosophy
ISBN: 9781570757556
Free Home Delivery
on all orders
Pick up orders
from local bookshops
Reviews
Showing 1 - 3 of 3 reviews.
Review by gnomereads
16/06/2015
I can honestly say I did not enjoy the book; it's my opinion the work drug in many places, and much of the notes were repeated though out the piece. The book could haven been written in one half to three quarters of it's current size; however, it did reinforce my long held beliefs that there's more to the assassination than the American public has ever been told. Our government, the FBI, the CIA, and interested war and power mongers have long called the "shots" to affect their policies and positions. The President, Senate, and Congress are mere puppets to special interests and money. While I do believe this is the greatest country on God's green earth, this nation and its people have been kidnapped by those who have one agenda...absolute power.
Review by tabascofromgudreads
16/06/2015
Now that we are getting closer to the 50th anniversary of the JFK assassination there seems to be an increased animosity between those who believe the conclusions of the Warren commission about Lee Oswald, the lone gunman, and on the other hand the ones who believe that JFK was murdered by a group of people who conspired and benefited from his death. <br/><br/>Nobody has been able to present conclusive proofs about one or the other theory. Not the government, not the official commission, not the conspiracy lovers and not the conspiracy bashers, not even the arrogant ones who titled their work "Case closed". <br/><br/>This extremely well-researched book by Jim Douglass is more serious and credible than most of the JFK literature out there for two reasons:<br/><br/>1) it doesn't try to sell you a specific theory or tell us who shot JFK (by the way, it doesn't even mention the single / magic bullet theory), but rather tries to find some coherence in all the hundreds of facts and information that we have about the assassination.<br/>2) it doesn't focus on "who did it?" as much, while it spends most of its pages on the most important questions: "why they did it, and why does it matter today?". <br/><br/>Douglass makes a compelling argument that is not pointing at one single reason (for example, they shot him because he wanted to end the Vietnam war, or because he pissed off the CIA in numerous occasions). He takes a truly holistic approach at JFK's main policies in the last years of his life, and where they were headed for the years to come. In particular, JFK's determination to end the Cold War through diplomatic strategies and back-channels communications with Krushev and other communist leaders, was an extremely unpopular stance with most of the government people who surrounded him, the military apparatus and of course the CIA, that JFK had sworn he would "splinter in a thousand pieces". <br/><br/>The CIA in particular comes out from this book as the principal orchestrator of the murder. If that was the case, it would actually answer one of the most popular bar-banter objections to the conspiracy theory: "Someone should have spoken out by now". This argument does not hold once you realize that a) many witnesses and people somehow involved actually HAVE spoken out. Several of them have died in mysterious circumstances. b) there are hundreds of undercover operations organized by the CIA in the last 50 years, that we know absolutely nothing about, or perhaps just tiny fragments of the truth. <br/><br/>The writing is not great, there is no doubt about that. And yes, Douglass tends to repeat concepts and entire sentences along his book. <br/><br/>But overall, this book strikes me as the result of really honest hard work, including in-person interviews, and - at the VERY least - it makes you question the official version that has been fed to the public about this assassination. <br/><br/>As for the event itself, what strikes me as really odd is not that 60% of Americans today believe there was some sort of conspiracy. What strikes me as odd is that many of the remaining 40% are aggressively promoting the Warren Commission's version of the "lone gunman"!! Maybe they should read this book from cover to cover. <br/><br/>One of the conspiracy bashers is Stephen King. His book 11/23/63 has an afterword where King states that anybody rational must believe at 99% probability that there was no conspiracy. He doesn't explain why though. Very odd. <br/><br/>Another massive recent public-influencing event about this topic is Tom Hanks's movie "Parkland", which is nothing more than the reenactment of the official version of the events. What's the point of that? Why even make the freaking movie?? But MOST importantly, how can a big-budget movie about Parkland hospital completely ignore the documented fact that 15 doctors who saw JFK's body said that they saw an "entry wound" in his throat?? Were they just all so utterly incompetent, that Tom Hanks decided to dismiss that fact as non important?? <br/><br/>Some more food for thought now. <br/><br/>To believe that Oswald killed JFK by himself, you must also believe the following things:<br/><br/>1- Two witnesses saw Oswald carrying a bag into the Texas School Book Depository on the morning of the assassination. They insisted that it was too small to contain a rifle and must have been mistaken.<br/><br/>2- Julia Ann Murcer claimed that she saw a man going up the grassy knoll carrying a rifle one hour before the assassination. She said a man looking like Jack Ruby waiting for him in a parked truck. Murcer was not called by the Warren Commission. She must have been mistaken.<br/><br/>3- The 51 eyewitnesses claimed to have heard gunshots from the grassy knoll and saw smoke or smelled gunpowder coming from that direction must have been mistaken.<br/><br/>4- The 15 Parkland Hospital doctors who said there was an entrance wound in President Kennedy's throat must have been mistaken.<br/><br/>5- Doctors and witnesses who claimed to have seen a large exit wound located toward the back of Kennedy's head must have been mistaken.<br/><br/>6- Pathologists at the autopsy who were insistent that the entry wound on President Kennedy's skull was lower than the large exit wound and that there was no entry wound high on the back of the skull must have been mistaken.<br/><br/>7- John Connally, who was sitting directly in front of Kennedy, and who maintained under oath and repeatedly in later interviews that he and Kennedy were injured by separate bullets, must have been mistaken.<br/><br/>8- The paraffin tests on Oswald's hands and cheek indicated that he had not fired a rifle on the day of the assassination and therefore must have been incompetently administered.<br/><br/>9- It was just a macabre coincidence that seven top FBI officials due to testify at HSCA died within a 6 month period in 1977.<br/><br/>10- Although the probability is one in 100 billion trillion that at least 26 of 1100 witnesses sought in four JFK investigations would be murdered, it was just a coincidence and does not prove a conspiracy.<br/><br/>Having said all that, this book also works well as a history book, especially in its coverage of the Cuban crisis, the Bay of Pigs, the beginning of the Vietnam escalation, and the very tense relationships between JFK and his Joint Chiefs. <br/><br/>The problem of powerful internal warmongers, it seems, is a problem that every non-military leader has always had to face. Krushev had a similar situation in Russia.<br/><br/>Douglass concludes his work with a simple yet powerful statement: <br/><br/>"Peace is possible". <br/><br/>Read this book!
Review by nmele
16/06/2015
How to describe this book, which combines theology, history, policy studies and a dash of conspiracy theory? As I read, I reflected on the conversion of JFK from Cold Warrior to peacemaker, and the parallel evolution of Nikita Khrushchev, and also on how the last fifty years might have turned out had Kennedy not been assassinated. Douglass does an excellent job of explicating policy formation in Washington, DC, and interprets the events leading up to Kennedy's death through a consistent framework. Is he right about what happened? You read it and decide.
Also by James W. Douglass