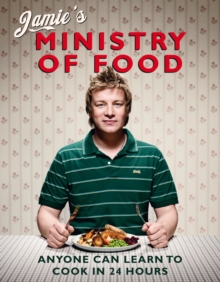 Jamie's Ministry of Food : Anyone Can Learn to Cook in 24 Hours
Hardback
Description
Jamie Oliver will teach you to cook from scratch in the Ministry of Food We need to learn from the past.
We need to look back at the way our grandmothers and great-grandmothers cooked - wholesome, tasty food that was simple and quick to prepare.
If you're a complete beginner in the kitchen, Jamie Oliver's promise to you is that you'll be making some great dinners within hours of reading his book.
A little knowledge and a few basic tools can go a long way, and Jamie's Ministry of Food is your first step ...Whether you are starting out and want to gain confidence in the kitchen or a seasoned cook looking to perfect classic dishes, Jamie's Ministry of Food is for you.
Jamie shares tips and tricks for the ultimate curry, roast dinner and stir-fry along with many more of his favourite traditional recipes.
If that wasn't enough, he also lets you in on delicious meals that you can make in just 20 minutes, including Salmon Tikka with fresh Cucumber Yoghurt and a hearty Chicken and Leek Stroganoff. 'There is only one Jamie Oliver. Great to watch. Great to cook' Delia Smith
Information
Format: Hardback
Pages: 360 pages, Fully integrated colour photographs
Publisher: Penguin Books Ltd
Publication Date: 03/10/2008
Category: TV / celebrity chef cookbooks
ISBN: 9780718148621
Free Home Delivery
on all orders
Pick up orders
from local bookshops
Reviews
Showing 1 - 3 of 3 reviews.
Review by unlikelyaristotle
16/06/2015
What an amazing book! I've made at least 5 of the recipes in here, and no matter what I make, as long as I follow Jamie's magic words, I can do no wrong! I've cooked fish, meat, couscous, pasta, you name it, he makes it happen for you! I've even learned how to make the perfect scrambled eggs which have been a pain for me, but I wont stop until I've cooked every single delicious recipe in this book, and my roommate will be the happiest one of all I guess!If you want to learn how to cook awesome delicious healthy homemade food, I recommend this book very very highly. This is coming from someone who has never really cooked a proper meal in my life (not counting cereal, toast, or frozen pizzas!), I've actually had friends gushing over it. The real proof is I had a friend over who had just come back from Morocco the day before, and I just happened to be making the couscous with lamb neck fillet and tangy sauce. He said it was just as good as anything he'd eaten in Marrakech, and even went for seconds!I don't think it's possible to rave anymore about this book, so I will just leave it at this: buy this book!
Review by othersam
16/06/2015
Jamie Oliver needs no introduction from me – and no help with his book-sales either! But I recommend Jamie's Ministry of Food anyway, for one simple reason. It's brilliant.Cooking good meals from scratch for yourself and those around you is one of the most useful skills you can learn as a human being. It's also fun. If you've spent the rest of the day doing something cerebral and abstract – such as writing – the act of making something physical (and delicious!) can be extremely satisfying. This book will show you how to do it.There's a short section on what equipment you'll need and another on what basics to keep in your store cupboard: both are minimal, unextravagant and unpretentious. Then there are the recipes themselves: clear, straightforward (if enthusiastic!) instructions on how to make a great mix of dishes including roasts, curries, stir-fries, puddings and a feast of other goodies to try.Jamie's Ministry of Food is written and constructed to tempt people who've never cooked before, but as a reasonably well-seasoned (or is that pickled?) kitchen dabbler I'm finding plenty in the book to get my teeth into. The results of his instructions for how to make home-made curry pastes are extremely impressive – every bit as delicious as recipes I've tried from specialist curry cookbooks. Jamie's use of a 'vegetable trivet' – a sort of platform of veg at the bottom of the roasting tin on which to rest your meat so its juices will combine with it to form the basis for amazing gravy – was a revelation. And the 'twenty-minute meals' section is just awesome.Mr Oliver is on a crusade to persuade people to eat better and more healthily by cooking for themselves. While I have to say I've sometimes found his missionary zeal on tv a bit offputting, this book won me over completely. In its introduction Jamie asks everyone to 'pass it on' by teaching a recipe to two or three people they know. Whether I'll go that far I don't know, but I've no hesitation in recommending the book itself: it's terrific. Give it a try.
Review by Melanielgarrett
16/06/2015
Ideal for when you need something tasty in a hurry, with simple ingredients