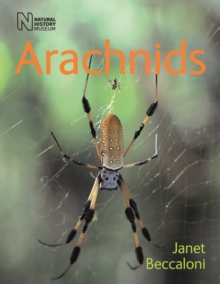 Description
For many people, long-legged spiders, blood-sucking ticks and venomous scorpions are the stuff of nightmares, but to others they are a source of constant fascination. "Arachnids" dispels common myths and misconceptions to reveal the truth about these weird, wonderful and often beautiful creatures.
The class of Arachnida does not consist of spiders alone but also contains ten other orders - harvestmen, ticks and mites, wind spiders, tailless whip spiders, whip spiders, scorpions, palpigrades, pseudoscorpions, schizomids and ricinuleids - nearly all of which have eight legs and two parts to their body.The biology, ecology and behaviour of each order is explored in detail and illustrated with stunning photography and line drawings.
Discover the ritual 'dance' of scorpion courtship, the mite species which can be found living in monkey lungs, and the thoughtful spider that actually regurgitates food to feed its young.
With a final section on the pet trade, conservation and breeding arachnids in captivity, this accessible reference will appeal to amateur naturalists and arachnid enthusiasts alike.
Information
Format: Hardback
Pages: 320 pages, Colour throughout
Publisher: The Natural History Museum
Publication Date: 01/09/2009
ISBN: 9780565092207
Free Home Delivery
on all orders
Pick up orders
from local bookshops