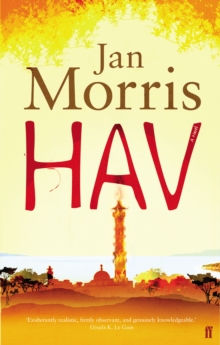 Description
"Hav" gives us Jan Morris at her most delightful and most suggestive.
The city is a magical place - yet behind its arcane splendours are darker implications.
The traditional Roof Race is peculiarly exciting, the waterfront is picturesque, the wistful call of a trumpeter from a distant rampart is wonderfully evocative, and every street corner is haunted by memories of illustrious visitors - Freud, Diaghilev, Marco Polo, Lawrence of Arabia and countless others.
But Morris' visit ends in flight when an unidentified enemy arrives to seize control.
When Jan Morris returns to Hav, some twenty years later, she finds that her account of her earlier visit is banned - and discovers a place that has rebuilt itself, transformed by a new energy and now dominated by a totemic tower 2000 feet tall.
But as the old Hav was in many ways an allegory of the last century, so the city in its new incarnation offers no less elusive hints, echoes and portents of our twenty-first century world.
As a destination it remains as entertaining as ever.
Information
Format: Paperback
Pages: 320 pages
Publisher: Faber & Faber
Publication Date: 07/06/2007
Category: Fantasy
ISBN: 9780571229840
Free Home Delivery
on all orders
Pick up orders
from local bookshops
Reviews
Showing 1 - 3 of 3 reviews.
Review by alexdallymacfarlane
16/06/2015
A travel book about a fictional city-state: what a fabulous conceit. Jan Morris handles it well, filling the book with details of the city -- its odd mishmash of cultural influences, its people, its architecture -- that made me wish I could visit. The pretense at many famous figures' involvement with Hav adds to the entertainment. And then the tragic changes, a city becoming more uniform and false, tourists remaining on one glitzy island away from the remains of the real city. I mourned for the destroyed Arab buildings and Chinese tower, though it pleased me to know that other people fear homogeneity. Overall, Hav is a fascinating book and well worth a read: a marvellous combination of fiction and travel narrative
Review by CarltonC
16/06/2015
A wonderful novel collecting "Last letters from Hav", published in 1985, and a fictional revisiting of Hav called "Hav of the Myrmidons" published in 2006.The novel is written in a normal travel book fashion, giving Jan Morris' impressions of life in Hav, a small independent Mediterranean country in the Middle East, somewhere near Turkey and Lebanon. It is very well imagined and peopled by a believable set of characters from Hav and nationalities that have settled there over the centuries and it is this very richly imagined history of Hav that gives it such depth and the feeling of reality.The novel can be read as allegory, but that is to over simplify Jan Morris' intentions, I think, which is to provide a deeper analysis of our sense of place and history.A very enjoyable read.
Review by Bernadette877
27/08/2015
Jan Morris travels to Hav in her imagination. Her words take us there with her. Together we learn that sometimes you can only truly understand the world via fantasy. Hav of Last Letters from Hav just should exist. A city state where Europe, Asia and Africa meet. Where every military or trading great power since ancient times has made its mark. Polyglot, multicultural, charming surface, alarming roof race, occasional chilly undercurrents and all. Hav of the Myrmidons just does exist, in so many places where slick marketing or politics has packaged up the messy realities of cultural heritage and sold it back to us as Heritage. Creating spaces safe for the 0.1% complete with resurrected roof races health 'n' safetied to pointlessness. But where real life still goes on in the unintended cracks. Sheer brilliance twice over.