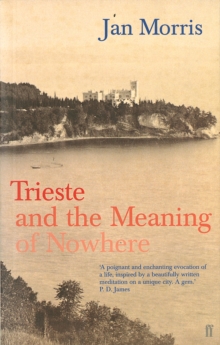 Description
Jan Morris (then James) first visited Trieste as a soldier at the end of the Second World War.
Since then, the city has come to represent her own life, with all its hopes, disillusionments, loves and memories.
Here, her thoughts on a host of subjects - ships, cities, cats, sex, nationalism, Jewishness, civility and kindness - are inspired by the presence of Trieste, and recorded in or between the lines of this book.
Evoking the whole of its modern history, from its explosive growth to wealth and fame under the Habsburgs, through the years of Fascist rule to the miserable years of the Cold War, when rivalries among the great powers prevented its creation as a free city under United Nations auspices, Trieste and the Meaning of Nowhere is neither a history nor a travel book; like the place, it is one of a kind.
Information
Format: Paperback
Pages: 208 pages
Publisher: Faber & Faber
Publication Date: 01/07/2002
Category: Travel writing
ISBN: 9780571204687
Free Home Delivery
on all orders
Pick up orders
from local bookshops
Reviews
Showing 1 - 1 of 1 reviews.
Review by wandering_star
16/06/2015
From the very first paragraph, you know this isn't going to be your standard travel book. How many travel writers would dare to start a book about a city like this: "I cannot always see Trieste in my mind's eye. Who can? It is not one of your iconic cities, instantly visible in the memory or the imagination. It offers no unforgettable landmark, no universally familiar melody, no unmistakable cuisine, hardly a single native name that everyone knows. It is a middle-size, essentially middle-aged Italian seaport, ethnically ambivalent, historically confused, only intermittently prosperous, tucked away at the top right-hand corner of the Adriatic Sea, and so lacking the customary characteristics of Italy that in 1999 some 70 percent of Italians, so a poll claimed to discover, did not know it was in Italy at all."This book can start like this because it's at least as much about travelling in time as in space. Trieste had a period of glory and importance in the eighteenth and early nineteenth centuries, when it was the seaport for the Austro-Hungarian Empire - but as wars broke out, borders shifted and new countries were born, it lost its role and fell into a decline. So the story of Trieste is about "age, doubt and disillusion ... lost consequence and faded power". It also, in many ways, is a reflection on Jan Morris' own life - she first visited the city immediately after WW2, and has been a regular visitor ever since.The book is undoubtedly melancholy, yet it's also uplifting. There are extended flights of imagination to the city in its prime: "All around me first-class passengers, awaiting the time to board their ship, are enjoying their last half-hour on Austrian soil before sailing away to America, Alexandria or the East. There they sit at their tables in the sunshine, with their parasols and their ebony walking-sticks, greeting old acquaintances or introducing one another to fellow-passengers." The book as a whole is a song of praise to a certain state of mind, sympathetic, honest and courteous, which Morris claims to have found in this city more than any other. Ultimately, "Trieste and the Meaning of Nowhere" is deeply imbued with an understanding of the historical dynamics which have created the city - and makes you wander what the point is of going anywhere without that sort of understanding. It's also beautifully written, and a book that leaves you with ideas fizzing round your head, from Morris' musings on the nature of nationalism or of exile, to her throwaway lines like "ports are more vulnerable than most cities to the vagaries of history".