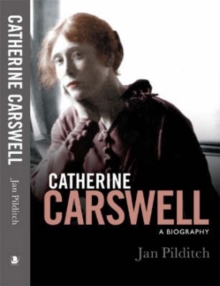 Catherine Carswell : A Biography
Hardback
Description
"Her Life" of Robert Burns produced a furore in Scottish newspapers for its depiction of a man, rather than a legend, and her biography of D.
H. Lawrence, "The Savage Pilgrimage", was withdrawn amid threats of legal action.
As a working journalist, she knew many of the great literary figures of her day in Scotland, England, and America.
She worked with the Irishman William Fay to write a history of the Abbey Theatre, and was the lifelong friend of the novelist D.
H. Lawrence, remaining his supporter throughout his battles with British censorship.
As an Edwardian, Catherine Carswell was heir to Glasgow's nineteenth century - its godliness, its realism, its modernity, and its sentimentality.
As a well travelled twentieth-century woman, who lived in London from 1910, she visited Italy, Germany, France, and met most of Stalin's cabinet in pre-war Russia.
She was rebellious, determined, intellectual, and no stranger to conflict.
Jan Pilditch's vivid account of her life tells us much about women and their writing in the early years of the twentieth century.
Information
Format: Hardback
Pages: 320 pages, Illustrations, ports.
Publisher: John Donald Publishers Ltd
Publication Date: 26/03/2007
Category: Biography: literary
ISBN: 9780859766852