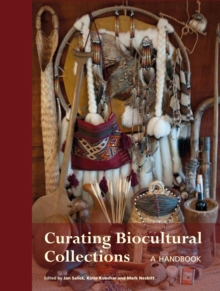 Curating Biocultural Collections
Paperback / softback
Description
Biocultural collections are plants and animals used by people, products made from them, and/or information and archives about them.
They are numerous and diverse, including biological specimens, natural products (e.g., medicine, food, fiber, oil, latex, etc.) and cultural artifacts (e.g., clothing, baskets, weaponry, tools, etc.) from around the world.
Biocultural collections benefit scientists, conservationists, development workers, teachers, students, and the general public.
However, these collections are poorly curated and data based - if at all - making them largely inaccessible for research and reference.
At a time when wild crop relatives, landraces, and knowledge about traditional plant uses are being lost at an alarming rate, our biocultural collections are also degrading and being orphaned or lost.
Curating Biocultural Collections aims to address these issues and develop standards of curation, and help institutions to properly care for collections that have been severely neglected and under-utilized.
Written and edited by experts from around the world, this book demonstrates that with proper curation, data basing, and on-line and physical access, these valuable resources can be used in research, conservation, development and education, and preserved for future generations. Kew Publishing in association with Missouri Botanical Garden Press
Information
Format: Paperback / softback
Pages: 250 pages
Publisher: Royal Botanic Gardens
Publication Date: 01/02/2014
Category: Museums & museology
ISBN: 9781842464984