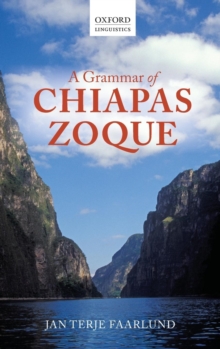 A Grammar of Chiapas Zoque
Hardback
Description
This book provides a clear and comprehensive description of the Ocotepec/Tapalapa variant of Chiapas Zoque.
Zoque is one of the two major branches of the Mixe-Zoquean language family, spoken in the southern part of Mexico.
Until the Spanish conquest in the sixteenth century the Mixe-Zoquean languages covered a large area from Veracruz on the Gulf coast to the border of Guatemala and the Pacific coast.
Inscriptions in Zoque from the first half of the first millenniumAD are the oldest known linguistic documents in Mesoamerica.The Zoquean area once included the entire heartland of the Olmecs, who almost certainly spoke a proto-Zoquean or proto-Mixe-Zoquean language.
The Zoques are thus the most likely direct descendents of the oldest known civilization of Mexico. As a result of a long history of close contact, Zoque and Mayan share areal features, and there are lexical borrowings in both directions, but genetically and typologically they are clearly distinct.
The Zoque-speaking area has shrunk considerably since pre-colonial times.
In 1982 an eruption from the volcano Chichonal destroyed a central part of the Zoque core area and caused a mass migration of Zoque speakers to parts of Mexico where Spanish is the dominant language.
This record of an unusualand critically endangered language will be a vital resource for linguists of all theoretical persuasions.
Information
Format: Hardback
Pages: 192 pages, Line Drawings, Tables
Publisher: Oxford University Press
Publication Date: 24/04/2012
Category: Computational linguistics
ISBN: 9780199693214
Free Home Delivery
on all orders
Pick up orders
from local bookshops