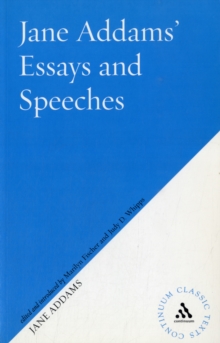 Jane Addams's Essays and Speeches on Peace
Paperback / softback
Description
The pragmatist philosopher Jane Addams (1860-1935) is celebrated as the founder of Hull House, the settlement house for disadvantaged people in Chicago, where for many years she put into practice her progressive ideas for social reform.
Addams was also deeply involved in international peace efforts.
Remaining a pacifist throughout World War I, she was a founder of the Women's International League for Peace and Freedom and went on to receive the Nobel Peace Prize in 1931.
Her books and essays on peace are frequently cited but long out of print and hard to obtain.
Interest in Jane Addams is rapidly growing. As the American government withdraws from international treaties, her call for international law and cooperation has a new relevance. And in our increasingly dangerous world, her call for peace is being heard again.
This volume contains the most complete collection ever made of Addam's essays, articles, and speeches on peace and international relations, written between 1899 and 1935.
Information
Format: Paperback / softback
Pages: 420 pages, Illustrations
Publisher: Bloomsbury Publishing PLC
Publication Date: 01/01/2006
Category: Peace studies & conflict resolution
ISBN: 9780826488541