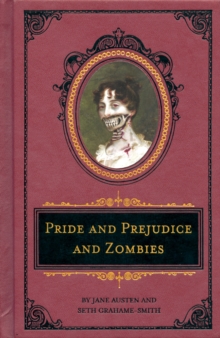 Pride and Prejudice and Zombies
Hardback
Description
It is a truth universally acknowledged that a zombie in possession of brains must be in want of more brains.
So begins "Pride and Prejudice and Zombies", an expanded edition of the beloved Jane Austen novel featuring all-new scenes of bone-crunching zombie mayhem.
As our story opens, a mysterious plague has fallen upon the quiet English village of Meryton - and the dead are returning to life!
Feisty heroine Elizabeth Bennet is determined to wipe out the zombie menace, but she's soon distracted by the arrival of the haughty and arrogant Mr. Darcy. What ensues is a delightful comedy of manners with plenty of civilized sparring between the two young lovers - and even more violent sparring on the blood-soaked battlefield as Elizabeth wages war against hordes of flesh-eating undead.
Information
Format: Hardback
Pages: 328 pages, 20 black and white, 15 full colour
Publisher: Quirk Books
Publication Date: 01/10/2009
Category: Horror & ghost stories
ISBN: 9781594744518
Free Home Delivery
on all orders
Pick up orders
from local bookshops
Reviews
Showing 1 - 5 of 15 reviews.
Previous | Next
Review by lizzybeans11
16/06/2015
I was finally in the mood to read/devour this book (I'm in a Jane Austen phase, and it's Halloween soon). So. Good.I'm not a full-on Austen purist so I don't mind the parody - which is quite well done. Most of the original text is there verbatim but then Grahame-Smith adds a sentence/word/paragraph about the "unmentionables". If you like Austen and Sci-Fi/Fantasy/Horror/Humour this is your book!My only critique is that Grahame-Smith (and the illustrator, if different) apparently doesn't know how ladies dressed in the early 1800s. They are pictured in Victorian vest, shirt and skirts. Very odd.
Review by Virtual_Jo
16/06/2015
Vastly improves the original!!
Review by BoundTogetherForGood
16/06/2015
I reade Pride and Prejudice (finished it in January); first time I've read a Jane Austen novel. Now, I am not one to be dragged into every fad even when it comes to reading, but I knew I had to read Pride Prejudice and Zombies. I didn't fail to think of you each time I sat down to read it. I hate scary movies/books/you-name-it...but the premise of the book was just enough to draw me in! 
Review by erins_plottings
16/06/2015
Total disappointment. Nothing really new or funny added, just occasional zombie phrases tacked on to the existing text. That joke gets old fast.
Review by swanroad
16/06/2015
This book is a lot of fun if you already love Jane Austen's Pride and Prejudice. Just think what YOU might do to Mr. Collins and Lady Catherine DeBourgh if you could rewrite history.