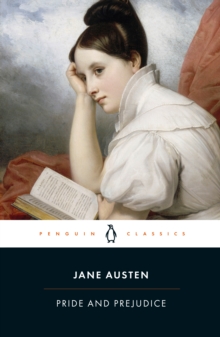 Pride and Prejudice
Paperback
Description
When Elizabeth Bennet first meets eligible bachelor Fitzwilliam Darcy, she thinks him arrogant and conceited; he is indifferent to her good looks and lively mind.
When she later discovers that Darcy has involved himself in the troubled relationship between his friend Bingley and her beloved sister Jane, she is determined to dislike him more than ever.
In the sparkling comedy of manners that follows, Jane Austen shows the folly of judging by first impressions and superbly evokes the friendships, gossip and snobberies of provincial middle-class life.
Information
Format: Paperback
Pages: 448 pages
Publisher: Penguin Books Ltd
Publication Date: 31/12/2002
ISBN: 9780141439518
Other Formats
Hardback from £6.59
Paperback from £2.50
CD-Audio from £11.05
Free Home Delivery
on all orders
Pick up orders
from local bookshops
Reviews
Showing 1 - 5 of 51 reviews.
Previous | Next
Review by vilia
16/06/2015
"It is a truth universally acknowledged, that a single man in possession of a good fortune, must be in want of a wife." It is also a truth universally acknowledged that Jane Austen has crafted one of the best love stories ever written. The dialogue is sparkling and the humour witty. It provides an insightful commentary on the early 19th century marriage market.
Review by mattviews
16/06/2015
How does one demarcate pride and prejudice, or bias and stubbornness? In Pride and Prejudice, Jane Austen deftly exposes the folly of and further ridicules judging by first impressions. When Elizabeth Bennet first met the fine, tall, handsome eligible bachelor Fitzwilliam Darcy, she immediately deemed him arrogant, conceited and utterly obnoxious. Her first impression of Darcy, who was initially looked upon with prodigious admiration, was quickly assured as his conceited manners gave a disgust which turned the tide of his popularity.Darcy's conceit and selfish disdain of the feelings of others formed the foundation of Elizabeth's disapprobation on which succeeding events had built so inevitably a hatred. When she later found out Darcy had deliberately altered Bingley's opinion of her beloved sister Jane and determined to separate them, she was determined to exasperate herself as much as possible against Darcy.In the comedy of manners that follows, Austen, in a superb manner and prose so elegant and lyrical, verbalizes the stubbornness, bias, and prejudices of Elizabeth toward a man whom resolved to be particularly careful that no sign of his admiration for her escaped him. Despite the fact that he struggled to maintain his composure, in his breast there existed a powerful feeling toward her, which soon procured her pardon and directed his anger elsewhere upon Elizabeth's weighty accusations of him.Pride and Prejudice presents us a romance comedy with a modern feel and touch. The opening of the novel Fitzwilliam Darcy is blackened as the most obnoxious snob for whom "there is not another woman in the room who it would not be a punishment" to him to stand up with. To Elizabeth, almost all of Darcy's actions "maybe traced to pride" and "pride had often connected him to virtue." No sooner had Darcy's superiority of mind (pride) been fully exposed than Elizabeth's prejudice was revealed. Unlike her sister Jane, Elizabeth was more hasty in censuring anyone (especially Fitzwilliam Darcy) and never supposed the possibility of any extenuating circumstances in the case, let alone urging the possibility of mistake and misunderstanding. In confronting Darcy of his inexcusable act of separating Bingley and Jane, Elizabeth judged from assumptions, suspicions, and the biased first impression. In a sense she sought to discredit Darcy and the relation of events that might be capable of a turn which must render Darcy blameless throughout the whole affair.When Elizabeth finally considered how unjustly she had condemned and upbraided Darcy, her anger and indignation was turned against herself and Darcy's dejection (more or less disappointed feelings toward her) became object of her compassion. Elizabeth's folly and rashness also become object of our compassion. How awful her petulance and acrimony of her manner in rejecting Fitzwilliam Darcy. Pride and Prejudice evokes the fact that human nature is prone to pride and very few of us do not cherish a feeling of self-complacency on the score of some quality or another. Pride usually relates more to our opinions of ourselves, of which Elizabeth has epitomized. Pride is the real superiority of mind, when along with stubbornness, bias, and determination, would casue irremediable regret. The novel also evokes the friendship, the values of marriage, and snobberies of English middle-class life in the early 19th century.
Review by kellibee
16/06/2015
My favorite adult book, hands down. I love the language in this book and the classic love story of it. It's amazing!
Review by jennyo
16/06/2015
I doubt I need to review this novel at all. I'll just say that when I heard E.L. Doctorow speak in Chicago a couple of weeks ago, he said there were only three perfect novels and Pride & Prejudice was one of them. I find myself in complete agreement. I also find myself wondering what the other two are...
Review by whitewavedarling
16/06/2015
This is one of the few books I go back to over and over again, and it's the magic of the writing. Austen wraps you up in her world until you've forgotten about your own reality for the worries and romance of hers. It's a careful and thoughtful work, with wit to spare. Highly recommended.