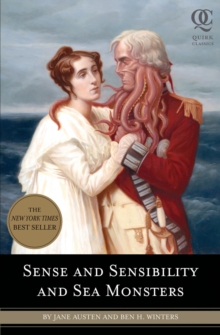 Sense and Sensibility and Sea Monsters
Paperback
Description
Following the massive success of "Pride Prejudice and Zombies", and the impressive pre-pub sales of "Sense and Sensibility" and "Sea Monsters", we have "Quirk Classic 3".
Like 1 and 2 the suspense will build as we discover what new monster mayhem will descend upon us this Spring.
Certain to create the same buzz and excitement as the previous "Quirk Classic" titles.
Information
Format: Paperback
Pages: 344 pages, 10 Line Drawings
Publisher: Quirk Books
Publication Date: 01/09/2009
Category: Horror & ghost stories
ISBN: 9781594744426
Free Home Delivery
on all orders
Pick up orders
from local bookshops
Reviews
Showing 1 - 5 of 47 reviews.
Previous | Next
Review by Eisler
16/06/2015
Having read and enjoyed Pride and prejudice and Zombies I was eager to start Sense and Sensibility and Sea Monsters. To my delight it was even better than PPZ, with the added material seamlessly blended to such an extent that the aquatic aberration that gives rise to the Sea Monsters was central to all aspects of the novel. The novel is done with humour throughout but still manages to address such issues as the arrogance of British colonialism and the blindness of the upperclass to the suffering of the lower classes. I heartily recommend this to all readers. 4 stars.
Review by BeckahRah
16/06/2015
I thought this book was excruciatingly slow and hard to follow. Many times I stopped and thought, "...wait...what's going on?" I loved P&P&Z and Dawn of the Dreadfuls amd Little Women & Werewolves, but this one...I just had to force myself to finish, and I'm still not 100% sure what happened. Too. Slow.
Review by justabookreader
16/06/2015
I was so very excited when this book went on sale on Tuesday. I ran to the store, got my copy, and started reading as soon as I got home. Sense & Sensibility is one of my favorite books and I wondered if the addition of sea monsters would alter my view.I'm happy to report it didn't. I'm not rating this book as high as the original but that's just because I don't really think of this as the same book and I will admit to being extremely partial to the original. It's fresh and fun but the original it's not, which is a good thing in this case.The story is much the same. Mr. Dashwood dies; Mrs. Dashwood, Elinor, Marianne, and Margaret move to the Devonshire coast; Marianne falls for Willoughby; Willoughby leaves Marianne; Elinor and Marianne go to London; a meeting with Willoughby goes bad; Marianne is heartbroken; Elinor suffers heartbreak silently; Marianne get sick and recovers; Elinor reunites with her love; Marianne finds love and a life she never imagined for herself. Oh, yes, don't forget the letter writing --- there's a lot of it.Sea monsters, yep, there's a lot of them too in the new version. Mr. Dashwood is eaten by a shark; Mrs. Dashwood kills a sea monster on the way to the Devonshire coast; Willoughby, the treasure hunter, saves Marianne from a huge octopus; Elinor escapes the fang beast; Elinor and Marianne visit Sub-Marine Station Beta (AKA London); Sub-Marine Station Beta is attacked by sea monsters; Colonel Brandon is part sea monster thanks to a curse by a sea witch (descriptions are amusing and somewhat disgusting); a lot of talk about underwater gear and, of course, fish stories. Also, there is an interesting explanation for the sea monsters --- the Alteration which no one knows the cause of.After reading it, I have to say that I truly enjoyed it. I also think this can be a love it or hate it book. If you're not willing for liberties to be taken with the original text then you might want to skip it. Me, I like parodies and found the characters and situations with the addition of sea monsters to be entertaining. Enjoy it for what it is.
Review by Nextian
16/06/2015
"Sense and Sensiblity and Sea Monsters" has fixed all the problems that "Pride and Prejudice and Zombies" had. It has smooth transitions between authors and Winters actually seems to respect the original material where as "Zombies" often stepped over the line between parody and ridicule. Winters gives the story a very Vernesque feel which helps to keep the narrative in approximately the proper time period and mindset. Overall, I think this was a very well done parody which any light-hearted Janite will enjoy.
Review by Shuffy2
16/06/2015
As a huge Jane Austen fan, I read this merely to appease my curiosity. My complaint about P&P&Z was the fact it was 75% Jane and 25% zombies and the story seemed disjointed as times, S&S&S is 75% sea monsters ans 25% Jane. There were several times that I had to remind myself that it was S&S, the names would jolt be me back to it. Colonel Brandon as a sea monster, Edward Ferras wanting a be a lighthouse keeper, Elinor, Marianne, etc- but then there are giant lobsters that attack, a city on the bottom of the ocean floor under a glass dome, sea witches, islands that are not islands, etc. I like sci-fi but not (as T7piper said) cheesy sci-fi, which it what this is. I am glad I read it so I can add it to my 'Jane Austen' and 'Austenesque' knowledge and collection but I can't whole heartedly recommend it unless it is to an Austen Freak like me.