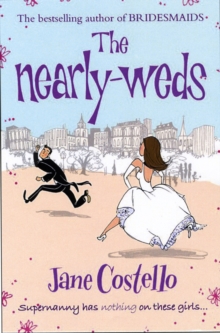 The Nearly-Weds
Paperback
Description
THE SUNDAY TIMES TOP TEN BESTSELLING AUTHOR What's the worst thing that could happen to a blushing bride?
To somebody warm, loving, and fun - like Zoe Moore? When she finds herself jilted at the altar by her fiance Jason, Zoe knows she doesn't deserve this heartache and humiliation.
Unable to face the pitying faces of her friends and family, Zoe takes drastic action: she flees to America.
Specifically, to Boston, where she takes up a post as nanny to five-year-old Ruby Miller and her little brother Samuel.
Ruby and Samuel have lost their mother in an accident.
They may as well have lost their father, too, for Ryan Miller is so wrapped-up in his grief that he barely notices his two attention-starved children.
As Zoe sets about tidying up Ruby and Sam's home, and injecting some fun back into their lives, she finds herself gaining their trust and love.
At the same time, Zoe grows more and more frustrated with Ryan's bullying behaviour, and his shameful neglect.
Whatever happened to the loving man she keeps hearing about from his neighbours?
Zoe can't find any sign of him. The only thing saving Zoe from despair is the small, close-knit group of British nannies who quickly befriend her.
There's boisterous Trudie, man-mad but hiding a painful secret; Sloanie traveller Amber, who sports a Buddhist tattoo that, unbeknownst to her, reads 'Batteries Not Included'. And chilly, tight-lipped Felicity, whose cut-glass voice gives little away.
But will these new friends be able to save Zoe, when she discovers that the past isn't all that easy to escape, no matter how far you go?Full of warmth, fun, friendship and laughter, The Nearly-Weds is a novel to devour!
Information
Format: Paperback
Pages: 432 pages
Publisher: Simon & Schuster Ltd
Publication Date: 02/03/2009
ISBN: 9781847390882
Other Formats
EPUB from £4.99
Paperback from £6.89
Free Home Delivery
on all orders
Pick up orders
from local bookshops
Reviews
Showing 1 - 3 of 3 reviews.
Review by magemanda
16/06/2015
I object to both the image on the cover of this book and the title, neither of which really represented what the book is about. Zoe is jilted at the altar by her boyfriend of seven years and heads to America to take up a nanny position in Boston with two adorable children and their enormously frustrating father. The picture shows a girl in a wedding dress running away from a man!Anyway, there is little to say about this book. There were no twists. A number of the secondary characters were entirely interchangeable. It was frothy, light and ultimately forgettable. It is the perfect book to switch your brain off and enjoy while on a beach somewhere.
Review by eesti23
16/06/2015
A cute story about Zoe, who jilted at the alter on her wedding day, decides to take a job in America as a nanny. When he placement gets switched to work for the stunningly handsome but terribly rude single dad Ryan, she wonders if she has done the right thing. Luckily her two small charges possess a bit more charm than there father. Over time Zoe and Ryan start to get on better and things look to be taking a turn towards romance but then Zoe's ex gets in touch and she has a change of heart. Quite a predictable book but sweet in its own right.
Review by Yogiboo
16/06/2015
Ahhh what a sweet book! I really enjoyed this book, it's like a soothing balm. Really funny and silly and just lovely :)