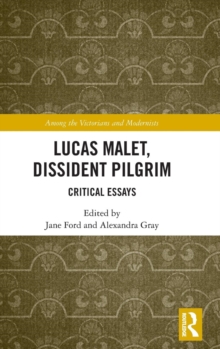 Lucas Malet, Dissident Pilgrim : Critical Essays
Hardback
Description
Popular novelist, female aesthete, Victorian radical and proto-modernist, Lucas Malet (Mary St.
Leger Harrison, 1852-1931) was one of the most successful writers of her day, yet few of her remarkable novels remain in print.
Malet was a daughter of the 'broad church' priest and well-known Victorian author Charles Kingsley; her sister Rose, uncle, Henry Kingsley and her cousin Mary Henrietta Kingsley were also published authors.
Malet was part of a creative dynasty from which she drew inspiration but against which she rebelled both in her personal life and her published work.
This collection brings together for the first time a selection of scholarly essays on Malet's life and writing, foregrounding her contributions to nineteenth- and twentieth-century discourses surrounding disability, psychology, religion, sexuality, the New Woman, and decadent, aesthetic and modernist cultural movements.
The essays contained in this volume explore Malet's authorial experience-from both within the mainstream of the British literary tradition and, curiously, from outside it-supplementing and nuancing current debates about fin-de-siecle women's writing.
The collection asks the question 'who was Lucas Malet?' and 'how-despite its popularity-did her courageous, unique and fascinating writing disappear from view for so long?'
Also in the Among the Victorians and Modernists series | View all