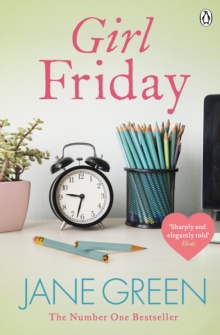 Description
Jane Green, author of the best-sellers Second Chance and Straight Talking, examines love, friendships and their limits in her moving and entertaining novel Girl Friday. Since her divorce a year ago, Kit Hargrove feels she has finally got her life back on track.
Gone is the lonely Wall Street widow she used to be, and in her place is a happier, more fulfilled woman, with a new job she loves - working for uberfamous novelist Robert McClore - a small but cosy new home with her children, and the beginnings of a tentative friendship with her ex husband.
She even has time for yoga classes with her new best friend Tracy.
The only thing missing is a man. And when Tracy introduces her to Steve - charming, romantic and attentive - Kit wonders if he could be the final piece of the jigsaw. But Kit doesn't know that Tracy is hiding a secret, one that could destroy their friendship, her happiness with Steve, even her new life.
Torn between suspicion and love, Kit doesn't know which way to turn.
For there are some betrayals that a friendship can't survive...Praise for Jane Green 'A densely plotted brew of love and mistakes' The Times 'Green keeps us transfixed until the very last word' Heat Best selling author Jane Green has captured the imaginations of readers in the UK and the US with her frank and funny approach to those day-to-day issues that affect women everywhere. Other titles also published by Penguin include The Other Woman, Jemima J., Babyville, The Love Verb (published as Promises to Keep in the USA), Life Swap (Swapping Lives), The Patchwork Marriage (Another Piece of My Heart), Spellbound (To Have and to Hold), The Beach House, Mr. Maybe, and Bookends. Girl Friday is published in the USA as Dune Road.
Information
Format: Paperback
Pages: 416 pages
Publisher: Penguin Books Ltd
Publication Date: 29/04/2010
ISBN: 9780141038636
Free Home Delivery
on all orders
Pick up orders
from local bookshops