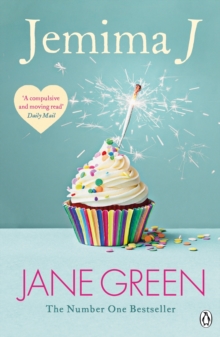 Description
Number one best-seller Jane Green - author of Babyville and Straight Talking - explores reinvention and self-discovery in Jemima J.
Jemima Jones is overweight. About seven stone overweight.Treated like a slave by her thin and bitchy flatmates, lorded over at the Kilburn Herald by the beautiful Geraldine (less talented, but better paid), her only consolation is food.
What with that and her passion for her charming, sexy colleague Ben, she knows her life needs changing.But can Jemima reinvent herself? And should she?Jemima J. is a brilliantly funny, honest novel about ugly ducklings and swans, attraction, addiction and the meaning of true love.'Green writes with acerbic wit about the law of the dating jungle' Sunday Express'The kind of novel you'll gobble up in a single sitting' Cosmopolitan'The ultimate makeover novel' Sunday TimesBestselling author Jane Green has captured the imaginations of readers in the UK and the US with her frank and funny approach to those day-to-day issues that affect women everywhere.
Other titles also published by Penguin include The Other Woman, The Love Verb (published as Promises to Keep in the USA), Girl Friday (Dune Road), Life Swap (Swapping Lives), The Patchwork Marriage (Another Piece of My Heart), Spellbound (To Have and to Hold), The Beach House, Second Chance, Mr. Maybe, and Bookends.
Information
Format: Paperback
Pages: 464 pages
Publisher: Penguin Books Ltd
Publication Date: 06/08/1998
ISBN: 9780140276909
Other Formats
EPUB from £3.99
Paperback from £7.09
Free Home Delivery
on all orders
Pick up orders
from local bookshops
Reviews
Showing 1 - 3 of 3 reviews.
Review by tillymint100
16/06/2015
This is the first Jane Green book I read after a friend recommended her. I loved it!! Jemima Jones is the ugly duckling who turns into a swan. A really funny, enjoyable read.
Review by JessicaLouise23
16/06/2015
Jemima Jones is overweight. Very overweight and she can't help but feel that her life needs a drastic change because when the going gets tough Jemima eats for comfort whether that's because she's yet again being treated like a slave by her bitchy gorgeous flatmates or because she's stuck working on the Top Tips column at the Kilburn Herald when what Jemima really wants to do is write for a glossy fashion magazine or because Ben - office hunk, and good friend - will never see her as more than just that, a friend. Jemima begins to wonder if people would treat her differently if she were to lose the weight but can Jemima reinvent herself and land the life of her dreams? And more importantly should she have to change the way she looks to get the life she wants?Jemima J is the ultimate makeover novel that will appeal to women everywhere. The reader is put in Jemima's shoes, the shoes of a larger than life lady trying to make a career for herself in fashion capitol London. Jemima shows us the prejudice and assumptions that come along with her size. Although Jemima's story is ultimately funny and light it also packs a punch about image and body confidence. Jemima J is an honest, touching, hilarious story that every girl who has ever been body conscious will relate to, nodding along with Jemima thinking "she's just like me!"Jemima is one of the loveliest, funniest heroines I've ever had the pleasure to read about. This girl has a heart of gold and I so badly wanted things to work out for her. You also can't help but fall in love with Ben just as deeply as Jemima has. He's intelligent, sweet, sexy and charming the perfect romantic hero. I also found myself really liking Geraldine Jemima's friend from work who grows on you more and more as you read the book. She really proves herself to be a brilliant friend to Jemima when she needs her most. The characters are very warm and likeable making them an absolute joy to read about.I've read a few of Jane Green's books and seem to prefer her earlier books to her newer ones. They have a much younger, funnier feel to them and this is probably my favourite of hers to date. Jemima J is chick-lit gold and is now a firm favourite of mine in the genre. This is a totally feel good book which mixes low self-esteem, addiction, wit, fate, love and friendship together creating a comforting compulsively readable book. Perfect to snuggle up with on one of those ugly duckling days it will boost your mood and your confidence. I'd recommend this book to anyone who's ever looked in the mirror and has been less than happy with what they see. 4.5 stars.
Review by shireling
16/06/2015
Jemima is seriously overweight. She is also quite infatuated with her collegue Ben.Then, one day she is introduced to the internet and her world changes.This is not the world greatest novel, but I have to admit it brought a smile to my face from time to time.