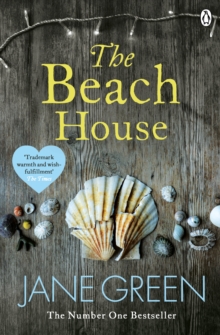 The Beach House
Paperback
Description
Number one best-seller Jane Green - author of Straight Talking and Mr Maybe - tells a heart-warming story of life, family and relationships in the captivating novel The Beach House.Nan, a widow whose family has flown the nest, is an independent, free-spirited woman who couldn't care less what people think about her living alone in her beloved beach house.
But when she discovers that money is running out and she might lose her home, she knows it's time for a drastic change.
Nan decides to rent out rooms for the summer and people start moving into the house, filling it with noise, laughter and tears.
Among them is Daniel, a recently divorced father, who's struggling to find out who he really is, and Daff, the single mother of a truculent teenager who blames her mother unreservedly for her parents' divorce.
As the house comes to life again, Nan finds her family growing.
Her son comes home for the summer and an unexpected visitor turns up, turning all their lives upside down...Compelling, absorbing and poignant, The Beach House is a story of friendship, love and those moments that can change your life.Best selling author Jane Green has captured the imaginations of readers in the UK and the US with novels that are perfect beach reads.
Other titles also published by Penguin include The Love Verb (published as Promises to Keep in the USA), The Other Woman, The Patchwork Marriage (Another Piece of My Heart), Jemima J., Babyville, Girl Friday (Dune Road), Life Swap (Swapping Lives), Spellbound (To Have and to Hold), Second Chance, and Bookends.
Information
Format: Paperback
Pages: 432 pages
Publisher: Penguin Books Ltd
Publication Date: 04/05/2009
ISBN: 9780141022031
Free Home Delivery
on all orders
Pick up orders
from local bookshops
Reviews
Showing 1 - 3 of 3 reviews.
Review by uk_jw
16/06/2015
This was an enjoyable way to kill a few hours. Like many of Jane Green's novels this book cleverly pulled together a number of disparate characters stories. In this case by the draw of Nantucket and a beach house run by Nan. As ever you really didn't have to think with this one and can enjoy superficially. It is a positive that each of the characters stories are strong enough to fill more pages and a negative that as such you could be left feeling little cheated in what you don't find out.
Review by brokenangelkisses
16/06/2015
Years ago I enjoyed reading several of Green's earlier books, so when I saw this for sale for a mere 25p - and on bogof! - at my local library, I snapped it up. Would the story telling be as good as I remembered?The premiseA group of characters step out of their ordinary lives - and romances - and meet at a rented beach house in Nantucket. The blurb informs us that the owner, Nan, is mischievous and free-spirited while her guests are rather more unhappy. Daniel is breaking wife Bee's heart; Daff is struggling with her relationship with her daughter, Jess; and Michael, Nan's son, is having an ill-advised fling with his boss. Quickly, new relationships form and old ones change, but will any of them find the new beginning they are hoping for?My thoughtsGreen is a well-established writer of chick-lit so I was fully expecting the answer to the above question to be yes, and I wasn't disappointed. This is the kind of book you read anticipating a happy ending and the only question mark is over the exact shape of it. I didn't find that this spoiled my enjoyment, but it does make for a slightly predictable story and will not suit all readers.Originally a journalist, Green's style sometimes feels a little bit clunky. She feels the need to briefly describe characters when they first appear and her descriptions add little to the plot or the readers' understanding. I found them distracting and not helpful. Her characters also feel a little bit too glamorous sometimes. How many people can really own massive houses or drip with diamonds or throw up their job at a moments notice? Again, I think this tilt towards impulsivity and financial security is a fairly common feature of some chick-lit and, really, these are minor quibbles. Ultimately, this is meant to be a feel-good read and it is definitely that.What I did find surprising was how long it took to get to the point described on the book jacket. It is not until half way through the book that all the characters are gathered at the titular beach house and most of the first third of the book focuses on establishing the situations already described in the blurb. The reader learns all about Bee and Daniel's relationship from meeting through marrying to breaking point. The breakdown of Daff's marriage and the subsequent problems with her daughter are also fully described. Michael's whole relationship with boss Jordana is described from the moment they begin to be more than purely employer and employee to the moment he realises what a terrible error he has made. I found this established the characters well but it did mean that it felt like the whole first half of the book was set-up rather than story. This didn't really bother me, but it might irritate some readers. This approach does allow you to get to know each character well which helps you to care about them.More problematically for light chick-lit, the beginning of the book is rather depressing. Marital infidelity is rife and all the initial relationships have been discarded by a third of the way through the book. I found this rather sad as Green seemed to suggest that most marriages fail. Of course, this does rather match the real-life statistics! I did not find it reassuring that, by the end of the book, all these characters have decided that their original marriages were terribly flawed. I think I prefer chick-lit that ends with marriage rather than chick-lit that begins with the destruction of one - or several! ('Pride and Prejudice' is one of my favourite ever books.) There is only one successful long-term relationship in the book and this is between peripheral characters. Even the minor supporting characters are all divorced. Green's moral voice is also a little worldly for me. Her characters acknowledge that men can't resist infidelity and that an affair doesn't have to mean the end of a marriage. This certainly makes her romantic fiction more realistic than some; I think my prefer my romantic fiction to be unrealistic! It is interesting to note that between this book and Green's earlier books she has gone through a divorce herself. I do not know the details of this but I suspect that it has influenced her writing. I seem to remember her earlier books being more positive and I preferred them to this more realistic, or perhaps simply pessimistic, mode.I also felt that the characters were rather cliched. Gay characters are not into sport and teenage girls hate their mothers. Furthermore, gay characters are able to magically recognise other gay characters and old ladies have amazing intuition. I appreciate that you don't typically look for well developed characters in chick-lit, but I still felt that Green could at least have avoided ticking as many stereotypes as she does.The story is suitably interesting as the various plot lines develop and converge. Sometimes it is very predictable (newly single woman meets newly single man and they fall in love) and there are the obligatory misunderstandings that are rather easily resolved, but there are also a couple of twists that I didn't see coming. I was always ready to pick up this book and continue reading, although I never found it gripping or compelling. That said, I don't expect to find chick-lit gripping or compelling, so that is a statement of fact rather than a criticism.Green is a British author who has moved to Connecticut and this book is set in America. Interestingly, some reviewers online have complained that the characters are too British in their idiom and that this spoilt their enjoyment of the book. This is not something that I noticed but it didn't feel American in the way that some books by American authors do and it may be that for some readers this lacks a strong enough sense of place.Something the book certainly possesses is a few twists. I didn't anticipate any of them, but I do tend to read this kind of fiction with my brain switched off, so I cannot really comment on how surprising other readers may find the twists. I think they are actually relatively common twists for this kind of fiction and so keener readers may find the story a little too predictable.ConclusionsI felt that this was a mildly enjoyable read as it had a set of likeable characters with distinct plot lines that made their histories easy to follow. The story is ultimately rather reliant on coincidence and the happy ending is unrealistic because of that. However, if readers are willing to suspend disbelief at the end then the story is otherwise quite realistic, which I liked. The paperback is priced at £7.99 for 420 pages, which I think is a little steep for something that you are only likely to read once. I think it would certainly be worth getting as part of an offer or second hand as it would then offer value for money as well as being entertaining. I found this easy to read but did not enjoy it as much as Green's earlier books. I would recommend reading one of her earlier books rather than recommending this one specifically, but I imagine more dedicated fans will really enjoy it.Read this if:- You are already a fan of Jane Green's recent offerings.- You enjoy reading straightforward chick-lit.- You want a relaxed, easy read that focuses on relationships.Avoid this if:- You enjoy fiction with a strong and accurate sense of place.- You enjoy more intelligent fiction.- You dislike stories which are predictable and simple.
Review by AnneBrooke
16/06/2015
Oh dear, oh dear. This is a very unfortunate and laughable (in the wrong sense) book - which is a great shame as I'm usually a fan of Jane Green's books. Sadly, here it seems as if she just couldn't be bothered to write it or she was distracted elsewhere.It starts off okay - and it's certainly light and easy reading, which was what I wanted. But there's an awful lot of telling us the back story, and I don't think the current day plot actually got started until about one hundred pages in. In fact the characters don't even reach the house in question until three-quarters of the book is done, so you can see the problem from the start. Ms Green should have got them all there asap and then we could have found out their lives at that point.There were also numerous things which seriously annoyed me, enough to result in no less than two rants across our breakfast table - which certainly startled my husband. First of all, there are really no nice men in this novel. They're all horrid. Daniel is extremely cruel (and if I'd been his wife I would have kicked him where it hurts), Michael is extremely selfish (oh dear you had an affair with a married woman and left her severely damaged and now you're upset at how miserable your life is, well boo hoo to you and why don't you grow a pair, you horrible little man?...), and Evan is extremely cowardly. I also got very annoyed when Michael accused poor Daff of being underhand and makes her swear she's being honest now. Um, you're the one who had an affair, Michael, and ruined two people's lives. If I were Daff, I would have told you to take some of your own ruddy medicine when it comes to personal honour. Whilst kicking you in the goolies, too.It doesn't get any better at the end either. The coincidence involving Evan is laughingly, achingly bad (my dears, I shrieked with annoyance and disbelief!), and from then on it gets soooo cloyingly treacly and ill-written that I could have started a sugar-beet farm (probably several) from the sweetness. Yuk and yuk. I had to laugh, or I would have cried. Deep sigh ...