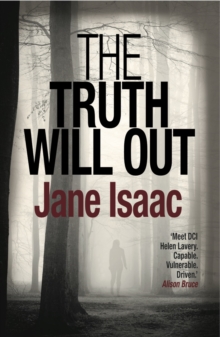 The Truth Will Out: Shocking. Page-Turning. Crime Thriller with DCI Helen Lavery
Paperback
Description
DI Will Jackman Series - Amazon Top 5 Bestseller'The criminal world is always closer than you think...
Tense and cop-savvy.' Phil Rickman'If you like Agatha Christie, Patricia Cornwall and Gillian Flynn, you'll love The Truth Will Out.' Mari Ellis Dunning'My kind of book.
Jane Isaac writes with real confidence and attention to detail.
An enjoyable and authentic British police procedural.' Mari Hannah'Meet DCI Helen Lavery.
Capable. Vulnerable. Driven.' Alison Bruce"Everything's going to be okay.""What if it's not?"Suddenly, she turned.
For a split second she halted, her head inclined."Naomi, what is it?"She whisked back to face Eva."There's somebody in the house..."Eva is horrified when she witnesses an attack on her best friend.
She calls an ambulance and forces herself to flee Hampton, fearing for her own safety.
DCI Helen Lavery leads the investigation into the murder.
With no leads, no further witnesses and no sign of forced entry, the murder enquiry begins.Slowly, the pieces of the puzzle start to come together.
But as Helen inches towards solving the case, her past becomes caught up in her present.Someone is after them both.
Someone who will stop at nothing to get what they want. And as the net starts to close around them, can Helen escape her own demons as well as helping Eva to escape hers?A gripping thriller perfect for fans of Gillian Flynn, S.J.
Watson, B A Paris and Sophie Hannah
Information
Format: Paperback
Pages: 256 pages
Publisher: Legend Press Ltd
Publication Date: 17/03/2014
ISBN: 9781909878556
Free Home Delivery
on all orders
Pick up orders
from local bookshops
Reviews
Showing 1 - 3 of 3 reviews.
Review by rvhatha
16/06/2015
I really enjoyed _The Truth Will Out_, Jane Isaac's first (?) police procedural featuring DCI Helen Lavery. The book is well plotted and out together in an interesting way, in sections that alternate between Helen's POV and that of the killer and a witness. Like some of Ruth Rendell's novels, we as readers know "whodunit" right from the start; we just have to wait for the detective to put all the pieces together.Helen is an engaging character: the daughter of a career detective, she now lives with her widowed mother and her own two teenage sons. Helen's husband, the boys' father, was an Army officer who was killed in a routine helicopter exercise ten years earlier. She is a dogged investigator, but one whose life isn't the complete hot mess that one expects from the "lonely single female detective" trope these days.That doesn't mean that Isaac doesn't draw from the well of other standard genre tropes in places: there are dirty cops, an irresistible bad boy with criminal ties (or two), and a loyal sidekick of a partner on the squad who smokes too much and defends Helen even more.The are some proofreading issues with the eARC that I hope will be cleared up prior to publication: lots of missing or misplaced apostrophes and commas, some spelling issues ("passed" instead of "past" in one example), and a handful of other grammatical things that kind of clunk when the reader comes across them. This is a strong debut, and I hope it won't be marred by those catchable sorts of errors!NOTE: I received this book as an eARC from NetGalley in exchange for an honest review.
Review by ssimon2000
16/06/2015
I received an epub version of this book from Netgalley in exchange for a fair and honest review.<br/><br/>This was a good read, a good first effort from Jane Isaac. The main character, DCI Helen Lavery, is a single mom and daughter of a police hero that had previously placed the main bad guy in jail. Overall, the characters were believable and likable, and the plot was well-thought out.<br/><br/>The writing was pretty strong, but the number of flashbacks in the early and middle part of the book, while necessary, slowed the plot down somewhat. I'm not sure there is another way to reveal the required backstory, and the flashbacks did add to the overall tension.<br/><br/>I would recommend this book to anyone who enjoys British police procedurals, and I'm looking forward to the next book.
Review by atticusfinch1048
16/06/2015
The Truth Will Out – Oh Yes It WillThe Truth Will Out by Jane Isaac is my first date with DCI Helen Lavery and I wasn't disappointed, I found The Truth Will Out as easy to read and very enjoyable. I am not sure what other reviewers were expecting calling it predictable, so were all the Sherlock Holmes, Miss Marple and Poirot books. Eva sees her best friend Naomi attacked why Skyping with her and calls an ambulance and decides it is best to get away from Hampton. While Eva escapes from Hampton she is afraid of what has happened since their holiday to Milan. We are given flash backs to events that have lead to Eva running for her life.DCI Helen Lavery is called out to the murder of Naomi Spence but there seems no reason for her to be killed or any evidence on how the murderer got in and out of her home. Things do not help when Lavery finds out that Naomi's ex-boyfriend has been a person of interest in drug trafficking but no charges ever brought. During her investigation Lavery bumps in to a colleague who happens to be a former boyfriend who happens to be in the Station to assist her and her team. Lavery starts to question things when the investigation seems to be wound down as being solved. There is something wrong but Lavery just cannot put her finger on what it is, even though that will place her in the way of danger.The great thing about DCI Helen Lavery she is not the usual defective detective but a well rounded normal person. The book also tackles some quite sensitive issues amongst the modern police force, among them being Police corruption, drug trafficking and domestic abuse and I believe they are reflected fairly in the book.Jane Isaac has written an excellent crime novel with The Truth Will Out that is a great shortish novel with only 288 pages, so there is no bulking the story out, and no wasted words. Jane Isaac has well researched this novel and I very much doubt it will disappoint other than you will have to wait until DCI Jane Lavery's next outing.