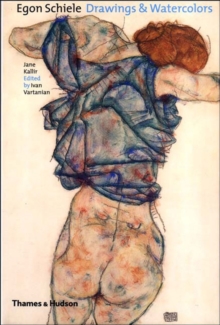 Egon Schiele : Drawings and Watercolours
Hardback
Description
Austrian Expressionist Egon Schiele produced a prolific body of work before his early death in the flu epidemic of 1918 at the age of 28.
His few hundred oils have often been reproduced and are well recognized, but he also created nearly 3000 drawings and watercolours.
Limited access to these fragile works and dispersion among several collections have made a comprehensive survey of Schiele's work a rarity.
This volume assembles the master draughtsman's works on paper, providing an opportunity to study his rapid artistic development over the course of a brief 12 years of activity.
Each year of his output is introduced and the author discusses his step-by-step progression from child prodigy to master of the human form and expression.
Information
Format: Hardback
Pages: 496 pages, 300 colour illustrations
Publisher: Thames & Hudson Ltd
Publication Date: 28/04/2003
Category: Art & design styles: Expressionism
ISBN: 9780500511169
Free Home Delivery
on all orders
Pick up orders
from local bookshops
Reviews
Showing 1 - 3 of 3 reviews.
Review by eileansiar
16/06/2015
Egon Schiele is a study in the development of an artist from precocity to artistic maturity. All art is biographical. He especially recorded his adolescent preoccupation with the human body until some brief jail time, a love affaire, marriage, and service in the Austrian army in WWI caused him to develop a more mature style and values. He died the same year as Gustav Klimt, and was about to eclipse him in the Austrian art world when death by illness took him, Edith his wife, and Wally his girlfriend before marriage. He died as the Austro-Hungarian empire was about to collapse, the Hapsburg dynasty ended. The book is a tantalizing look at an aspect of Austrian culture that, like a rare Amazon flower, bloomed then just as quickly expired, its beauty drying between the pages of a botanist's collection book.Highly readable, thorough, with extensive though not exhaustive illustrations by Egon Schiele, an Austrian artist born in 1890 who showed precocious talent but just as he was being recognized by the Austrian art world unfortunately died during the great flu epidemic in October 1918 just four days after his wife, Edith, died. His myriad drawings are scattered by the winds of artistic taste all about the world, but his relatively fewer paintings are mostly in Austrian museums. He's known for his nudes, but respected for his portraits and allegories. The author is a well-known expert on Schiele who does him proud with an excellent biography and a fine selection of his work. Neither his biography nor his prints are for the faint hearted. But he is an artist of note who, had he lived, would have been more widely known.
Review by presto
16/06/2015
Following the introduction, the book is arranged chronologically; the first chapter covering the years up to 1907 when the artist was seventeen, followed by 1908-1909, with the successive chapters covering a year each up to 1918. The chapters open with about six or seven pages of illustrated text, to be followed by the relevant drawings; there is no bibliography.A very readable book, the text provides a year by year account of the artist's progress; his family situation and personal life, his education and development as an artist and what influenced him. It is an intelligent and reasoned account.The vast bulk of the book however is taken up with the drawings and watercolours. All the images are reproduced in full colour, including the monochrome drawings. It contains over three hundred illustrations which, with the exception of those illustrating the text, are presented one to a page, with the a few double page spreads. The printing is excellent and the images appear rich and strong, well conveying the subtle textures evident in the artist's work.This is a most handsome volume, fairly modest in dimensions, but at nearly 500 pages certainly not in content. It is beautifully produced and presented; the choice of font for the text has quite obviously been given careful consideration, and perfectly complements Schiele's drawings. The images combined with the sensitively written text cannot but draw one to Schiele, and highlight what a tragic loss that he should enjoy such a short life. If anyone has any doubts about the genius of Egon Schile, a little time spent perusing this splendid book will surely put that to rights.
Review by fundevogel
16/06/2015
An extensive and absolutely beautiful survey of Schiele's drawings and watercolor. I had a lot of fun browsing his erotic pictures. The text is fittingly brief, as it should be in an art book, but provides a decent amount of insight into the artist, his method and his art. My only complaint is that on the occasion images were printed as two page spreads the crease ate a lot of the image.
Also by Jane Kallir