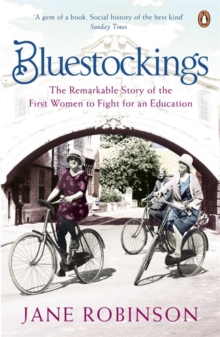 Bluestockings : The Remarkable Story of the First Women to Fight for an Education
Paperback
Description
Jane Robinson's Bluestockings is the incredible story of the fight for female education in Britain.
In 1869, when five women enrolled at university for the first time in British history, the average female brain was thought to be 150 grams lighter than a man's.
Doctors warned that if women studied too hard their wombs would wither and die.
When the Cambridge Senate held a vote on whether women students should be allowed official membership of the university, there was a full-scale riot.Despite the prejudice and the terrible sacrifices they faced, women from all backgrounds persevered and paved the way for the generations who have followed them since.
By the 1920s, being an 'undergraduette' was considered quite the fashionable thing; by the 1930s, women were emerging from universities as anything from aviation engineers to professional academics.Bluestockings tells an inspiring story - of defiance and determination, of colourful eccentricity and at times heartbreaking loneliness, as well as of passionate friendships, midnight cocoa-parties and glorious self-discovery.'Social history of the best kind' Sunday Times'Modern girls need reminding of the long battle, and Jane Robinson's fine book does just that, charting the lives and struggles of campaigners ...
But there is more joy than sorrow' Mail on Sunday Jane Robinson was born in Edinburgh and brought up in Yorkshire.
Her books about women travellers and pioneers have established her as an engaging social historian with an appreciative eye for eccentricity.
Jane lives near Oxford with her husband and two sons.
Information
Format: Paperback
Pages: 304 pages, 16pp b/w photographic inset
Publisher: Penguin Books Ltd
Publication Date: 29/04/2010
Category: Social & cultural history
ISBN: 9780141029719
Free Home Delivery
on all orders
Pick up orders
from local bookshops
Reviews
Showing 1 - 3 of 3 reviews.
Review by LyzzyBee
16/06/2015
Acquired via BookCrossing 26 Nov 2010 - mini bookringThe inspirational story of the women who, from the late nineteenth century through to the inter-war years, paved the way for all of us British female graduates. From undergraduettes who were thought to be damaging their chances of child-rearing, through chaperones, women only dances and thickets of rules and regulations, Robinson draws out personal histories through letters and diaries and shapes her material well into themes such as applying for University, friendships etc. She doesn't ignore the darker side of life but this is essentially a life-affirming and positive read, very well done and filling a gap that hadn't previously been looked at, as far as I know.
Review by nocto
16/06/2015
I should read more history books - finding ones I like is the problem. This book is all about the experiences of the first women to attend English universities starting in the 1830s or so and running more or less up to the time that degrees were being granted to women by pretty much all universities, Cambridge being one of the last to permit that in 1948. As someone who grew up expecting to go to university and expecting that all opportunities would be open to me it was a bit of an eye opener. Even the author mentions that she was expected to go into a teaching career as a woman armed with a 1970s degree, something that was off the radar by the time I was getting my 1990s degree. I'm very glad that these women paved the way for me!It's a fascinating read full of strong characters (not always the "undergraduettes" themselves) and happy endings but also the stories of those for whom things went wrong, who weren't in the right places, those who got educations they didn't want and those who didn't get the educations they wanted. I loved reading it and have a new perspective on things as a result. It's one of those things that you're aware of but hearing some more of the story is welcome.
Review by jcbrunner
16/06/2015
Cambridge University only started awarding degrees to women in 1948. For once, Oxford was more progressive. Women were allowed to graduate there already in 1920. This is the charming story of the first female cohort that started out to conquer academia which started in the early 19th century and is still ongoing if one seeks gender parity in full professorships. The book is filled with gems and nuggets about a strange and now lost Victorian world. As always in a British context, the class context is both present and ignored. Academic aspirations are a profoundly bourgeois idea. The aristocracy is not known for breeding and caring about intelligence. The peasants and workers simply could not afford this type of luxury."It was there that the Bronte sisters went, and where their friends became pupil-teachers, ploughed back into stony ground before they had a chance to flourish in the world" (p.28). Only medical progress made investment in female education a non-futile endeavor. Death in child-birth cut short too many a promising life. Convents were among the few places that invested in female education and given the longevity of nuns could reap its benefits. As only one out of ten of the first cohort of bluestockings married, an academic education had a similar secular effect. It would have been helpful to set this tiny number of female students (720+335 during a twenty year period in two institutions) in context to the total population to see that these were truly exotic pioneers. The shocking bigotry these women had to endure is truly breathtaking. One was denied time-off during the 1930s to give birth due to the reason that no man ever claimed the same benefit ...Relying on personal recollections and letters, the book does not fully reveal the private life of the students. It is hard to reconcile the draconic regimented lifestyle told in this book with the general level of licentiousness as told in Simon Winchester's account about Joseph Needham's time at Cambridge during the 1930s. A saucier account might have tried to pry loose the stockings.