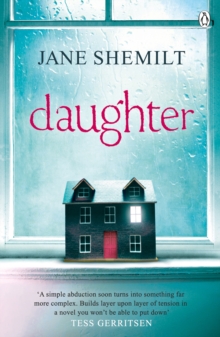 Description
*A Sunday Times top five bestseller and Richard & Judy Autumn Book Club pick*When a teenage girl goes missing her mother discovers she doesn't know her daughter as well as she thought in Jane Shemilt's haunting debut novel, Daughter.THE NIGHT OF THE DISAPPEARANCEShe used to tell me everything.They have a picture.
It'll help.But it doesn't show the way her hair shines so brightly it looks like sheets of gold.She has a tiny mole, just beneath her left eyebrow.She smells very faintly of lemons.She bites her nails.She never cries.She loves autumn, I wanted to tell them.
She collects leaves, like a child does. She is just a child.FIND HER.ONE YEAR LATERNaomi is still missing.
Jenny is a mother on the brink of obsession. The Malcolm family is in pieces.Is finding the truth about Naomi the only way to put them back together?Or is the truth the thing that will finally tear them apart?Daughter by Jane Shemilt is an emotional and compelling story about how well you really know those you love most.While working as a GP, Jane Shemilt completed a post graduate diploma in Creative Writing at Bristol university and went on to study for the M.A in Creative writing at Bath Spa, gaining both with distinction.
She was shortlisted for the Janklow and Nesbitt award and the Lucy Cavendish fiction prize for Daughter, which is her first novel.She and her husband, a Professor of Neurosurgery, have five children and live in Bristol.Praise for Daughter'We absolutely loved this book.
It's about a GP and her family and the sudden horror that devastates their lives when their 16-year-old daughter disappears one night.
It's difficult to believe that this accomplished book is a debut' Judy Finnigan, Richard and Judy book club 'Ostensibly a suspense novel about the disappearance of a teenage girl, this taut and thought-provoking debut novel explores a working mother's guilt, something all-too familiar to many of us' Woman & Home'Thrilling, yet written with depth and subtlety, and tender insight into parental love' Tessa Hadley 'Complex and baffling.
Jane Shemilt builds layer upon layer of tension in a novel you won't be able to put down' Tess Gerritsen 'Gripping to the last page!' My Weekly 'Thrilling' Sunday Express 'Clever' Sun 'Taut and thought-provoking' Sunday Mirror 'Utterly gripping.
A tautly coiled spring of suspicion and suspense which builds to a devastating ending' Mail On Sunday 'A wonderful plot, full of tantalising reasons to read on, and of course with a killer twist at the end.
What impressed me most was (. . .) the impossibility of truly knowing those closest to us, the pressures of parenthood - in particular working motherhood, and the terrible loss at the heart of all parenting: they grow up and away' Christopher Wakling, author of What I Did
Information
Format: Paperback
Pages: 416 pages
Publisher: Penguin Books Ltd
Publication Date: 28/08/2014
ISBN: 9781405915298
Other Formats
EPUB from £4.99
eAudiobook MP3 from £8.80
Free Home Delivery
on all orders
Pick up orders
from local bookshops
Reviews
Showing 1 - 2 of 2 reviews.
Review by pgchuis
16/06/2015
Jenny and Ted's daughter Naomi fails to return home after a school play performance and this novel is told (like the last ten novels I seem to have read) in two distinct alternating time frames: firstly, the run-up to and immediate aftermath of her disappearance and secondly, a year later. Even a year later, new facts are coming to light and Jenny is having to realize new things about her daughter and also Ted and her twin sons.The author is a GP and I found the sections set in the surgery interesting and authentic, including the story about Jade. I also appreciated the portrayal of Ed in the later time frame - the author resisted the temptation to make things too easy there.But... I know it seems a strange thing to complain about, but there were just too many twists and turns in the is story for me to find believable. (The very last twist was really much too much for me). Everyone turned out to have really quite devastating secrets, no one was who they appeared to be. Jenny did indeed seem to be concerned about her family, yet she had no idea who they really were...? Really?I struggled a bit to believe that drugs had been going missing from her doctor's bag for some time without her noticing - surely there are safeguards in place to prevent that and she seemed a conscientious doctor. It annoys me when characters in crime novels feel the need to help the police out and I also query whether the courts could really rely on evidence from a dress Jenny claimed to have found in a boot at the school.Finally, it makes me cross that the author (and I think it is indeed her, not just Jenny and her children) seems to have bought into the idea that where both parents work full-time, it is still the mother's fault when things go wrong at home.
Review by shelleyraec
16/06/2015
When her young teenage daughter fails to come home one night after a school play performance, Jenny is frantic, Naomi is an innocent, her disappearance out of character and Jenny wants nothing more than to find her. As the police investigate, Jenny is stunned by what they discover, Naomi has been leading a life she knew nothing about.The first person narrative shifts between the past – the days and weeks just before and after Naomi's disappearance – and the present, nearly a year later. Surprisingly, this doesn't really dampen the suspense as the drama unfolds in both timelines, slowly revealing shocking betrayals, truths and lies.Jenny's life falls apart in the wake of Naomi's disappearance as the secrets her family have kept from her are revealed. I was disturbed to find myself judging Jenny, a busy GP, condemning her for being so oblivious to the reality of her husband's and children's lives. It's not entirely unjustified and Shemilt seems to encourage that response, but it isn't particularly fair. As a teenager I kept many secrets from my (working) parents, and now, even as a stay at home mother, I know my four children keep secrets from me, though nothing (I hope) as earth shattering as the ones Jenny's children keep.The writing is often atmospheric evoking the maelstrom of emotion experienced by Jenny, as well as the setting. The story is well paced, the tension of the plot is well maintained and the conclusion is a shock, one I'm still not sure about though.Daughter is a haunting tale of guilt, betrayal, truth and family prompting the read to consider how well we really know the ones we love most.