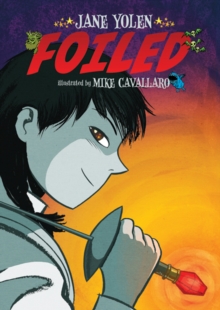 Description
A quirky, fast-paced urban fantasy by esteemed author Jane Yolen Aliera Carstairs just doesn't fit in.
She's always front and center at the fencing studio, but at school she's invisible. And she's fine with that . . . until Avery Castle walks into her first period biology class.
Avery may seem perfect now, but will he end up becoming her Prince Charming or just a toad?
Information
Format: Paperback
Pages: 160 pages, chiefly ill
Publisher: Roaring Brook Press
Publication Date: 13/04/2010
Category: Fantasy
ISBN: 9781596432796
Free Home Delivery
on all orders
Pick up orders
from local bookshops
Reviews
Showing 1 - 5 of 18 reviews.
Previous | Next
Review by kayceel
16/06/2015
Aliera loves fencing and is "meh" about the rest of her life. She doesn't feel like she fits in at school, though she would love to if only for a chance to spend time with Avery, the beautiful new boy who ends up as her lab partner. This is charming, fun and lovely. Aliera is color-blind, so most of the book is drawn and colored in grayscale. However, one afternoon in Grand Central Station, Aliera discovers that the cheap practice foil her mother found at a tag sale is actually a magical weapon, and suddenly she can see in color - well, she sees all the magical beings around her in color, that is.Aliera is a compelling, strong female character, and I look forward to more of her adventures.
Review by Jellyn
16/06/2015
The main character, whose name I've already forgotten, is a fencer. Her mother picks up a practice weapon for her at a sale, so it's real cheap. But it has this weird ruby attached to the hilt. Soon enough, she's putting on her fencing mask, seeing weird things, and fighting them with her weapon (you don't call it a sword in fencing, I guess).It was an interesting little story. I could like the main character and I learned things about fencing that I didn't know before.The artwork is pretty cool. The main character is severely colorblind, so it's all grey tones. Until she puts the mask on. Then the weird fairy and fantastical creatures are in color.I'd definitely recommend it for any tweens or teens who like graphic novels.
Review by Girl_Detective
16/06/2015
A good beginning entry of a series. I look forward to more.
Review by fyrefly98
16/06/2015
Summary: Aliera is a nationally-ranked fencer, but between school and fencing practice, she doesn't have a lot of time for a social life, other than weekly role-playing game sessions with her disabled cousin. Her fencing coach has always told her to "protect her heart," advice that's she may be following a little too well... until she meets Avery. He's a new transfer to her school, and he's almost too good to be true. Attractive and charming, he's the object of desire of every girl in school - and he's interested in Aliera. However, on their first date, Aliera puts on her fencing mask, and can suddenly see that there is an entire world of strange creatures hidden from normal view, and that no one - including herself - is quite who they had seemed to be.Review: Foiled is the first in a planned two-book graphic novel series from Jane Yolen, and it's a brilliant and engaging start. I'm a little burnt out on fairies at the moment - I've read a lot of Faerie books over the past year, and the fey were never my favorite supernatural creatures anyways - but Foiled had me totally captivated, and I'm eager to see where the story goes next, and how all of the issues Yolen sets up here eventually pan out. I was actually a little disappointed to hear that this is only planned to be a two-book series; I think there's enough potential here to provide the meat for a longer and more robust series. I'd certainly read it. Aliera's a believable teenager but also a highly relatable narrator. Fencing is woven throughout the plot as a supporting structure (each of the chapters, for example, are titled with the name of a fencing move that follows the structure of the bout and obliquely describes the action of the chapter), although it's described well enough that readers who have never picked up a fencing foil will be able to follow along just fine. The art was similarly spectacular: Carvallaro's drawings are clear and detailed, the panelling and flow are creatively done, and the contrasting use of graytones and colors is both extremely clever and occasionally totally gorgeous. Overall, I thought Foiled was clever, sharp, and attractive to read, with an interesting story that's left me anxious for the sequel to be published. 4 out of 5 stars.Recommendation: Definitely recommended for fans of YA fantasy, particularly urban fantasy, and for graphic novel fans who are interested in a creative and fun use of the medium.
Review by frood42
16/06/2015
Aliera Carstairs is an excellent fencer, but outside of fencing she is awkward and socially inept. When a date with the attractive Avery Castle goes horribly wrong, Aliera puts on her fencing mask and discovers a fairy realm that only she can see and must defend. Fencing provides an intriguing premise around which the fantasy story develops, especially because it logically allows for a modern New York City teen to be skilled in swordplay, and Aliera narrates the story with a unique and entertaining voice. The art is fun and compliments the story, highlighting both Aliera's isolation and identity as a fencer, for even outside of class and competition, she stands as if she has a foil in hand, and small fencing figures are frequently used around the borders to illustrate how Aliera is feeling during her interactions with Avery. Background details, such as a crow lurking outside windows, hint at the existence of the fantasy world. The majority of the images are grayscale, reflecting Aliera's own colorblindness, but the fantasy realm springs to life with bright colors. Though this graphic novel is entertaining and interesting, the climax was not very exciting, and the fantasy realm is only briefly revealed, giving the story a feeling of being very incomplete. This is the first in a series, and this particular installment felt more like it relies too heavily on the next book, instead of being a stand-alone story. Good for junior high and high school readers.