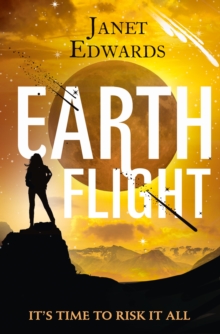 Description
The thrilling conclusion to Janet Edward's sensational debut YA sci-fi trilogy.Jarra never wanted to be a celebrity.
All she ever wanted was to gain some respect for the people left on Earth: the unlucky few whose immune system prevents them from portalling to other planets.Except now she's the most famous Earth girl in the universe - but not everyone in the universe is happy about it, nor the fact that she has found love with a norm.
Jarra's actions have repercussions that spread further than she ever could have imagined, and political unrest threatens to tear apart the delicate balance of peace between humanity's worlds.On top of everything, the first alien artefact ever discovered appears to be waiting for Jarra to reveal its secrets.
But to do so, she must somehow find a way to leave Earth - or else the alien artefact will be lost forever.
Is there a way for Jarra to travel to another planet? Or is her destiny only to look to the stars - but never to reach them?
Information
Format: Paperback
Pages: 400 pages
Publisher: HarperCollins Publishers
Publication Date: 14/08/2014
Category: Science fiction
ISBN: 9780007443512
Free Home Delivery
on all orders
Pick up orders
from local bookshops
Reviews
Showing 1 - 3 of 3 reviews.
Review by BookaholicCat
16/06/2015
4 ½ Stars<br/><br/>Earth Flight was everything I was expecting it to be. It was simply the perfect ending to a great series. <br/>If you like YA Sci-Fi this is a series you must read.
Review by libgirl69
27/08/2015
After about halfway these books always seem to start to feel rushed. The writing and plot feel too fast. I still enjoyed this book but think it could have done with some more narrative and character development.
Review by Jaylia3
27/08/2015
Earth Flight is the third book in this series featuring Jarra, a feisty, junk food loving, slang savvy, far-in-the-future girl who's handicapped by having an immune system that won't allow her to portal off of the home planet, so if you haven't read the first two books, this isn't the place to start, but if you've enjoyed the others it would be nardle to miss this one because it's a totally zan conclusion. At least I think it's the close of a trilogy, but I'd love another book and this one ends with Jarra still having lots left to do. If this is the end I'm going to hate leaving this totally amaz universe behind.In the previous book Jarra and her twoing partner Fian managed to send a message to the alien ship parked just above Earth, which keeps the young couple involved in the government's first contact project, so now Jarra is juggling military duties, history of early humanity classes, dangerous dig site field work at the ruins of once magnificent Earth cities, and her relationship with Fian, which goes through a lot of changes in the story. One of the things I've loved best about this series is how thoroughly Janet Edwards has developed the diverse cultures of the far flung off-Earth settlements, and we learn more them all in this book, especially the somewhat notorious Beta clans since Jarra has discovered she's one of them. This isn't a perfectly written series, but it's "flaws" have actually seemed to enhance my pleasure. There's info dumping, but it's fascinating since the future Edwards imagines is so detailed and interesting, and Jarra can be a bit of a Mary Sue (though that's less in this third book), but she's utterly charming anyway because she's so good natured and full of enthusiasm. If you love this series check out Janet Edwards's website for 8 free prequel stories that further explore all the off-Earth colonies.