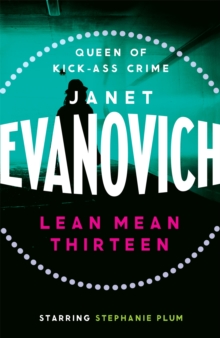 Lean Mean Thirteen : A fast-paced crime novel full of wit, adventure and mystery
Paperback
Description
Stephanie's digging up a whole heap of bad news...New secrets, old flames and hidden agendas send bounty hunter Stephanie Plum on her most outrageous adventure yet in Lean Mean Thirteen.
Janet Evanovich's Stephanie Plum series is not to be missed by fans of Sue Grafton and Lee Child.
Raves for Evanovich's bestselling novels: 'Highly enjoyable... who can resist? (Chicago Tribune); 'Romantic and gripping' (Good Housekeeping); 'Plum is not just a smart private eye but a heroine with a sense of humour' (Daily Mail).
Stephanie Plum is used to dealing with crimes in the neighbourhood, but she's not used to being accused of committing the crimes.
Her no-good ex-husband, Dickie, has gone missing the day after Stephanie was seen having an argument with him, threatening bodily harm.
Now Stephanie is suspect number one.Stephanie is going to have to find Dickie, and fast, to clear her name.
Hot cop Joe Morelli can't tell her anything, and mentor Ranger is offering to help...for a price that doesn't involve money.What readers are saying about Lean Mean Thirteen:'Fast paced and funny and the characters are getting better and better as we get to know them''Laughs a plenty and another great storyline''A fabulous book that has not only served to make me eager for the next, but given me hours of enjoyment in the meantime'
Information
Format: Paperback
Pages: 384 pages
Publisher: Headline Publishing Group
Publication Date: 12/06/2008
Category: Crime & mystery
ISBN: 9780755337590
Other Formats
EPUB from £4.99
CD-Audio from £12.65
Free Home Delivery
on all orders
Pick up orders
from local bookshops
Reviews
Showing 1 - 4 of 4 reviews.
Review by Lman
16/06/2015
Lean Mean Thirteen is another brief, but hilarious, interlude in the life of Stephanie Plum, bounty hunter. It doesn't go very far, it doesn't take very long, but it has some genuine laugh-out-loud moments along the way.For once, the resulting troubles from Stephanie's professional entanglements are not entirely her fault. When Ranger asks her to plant some listening devices on her ex-husband, Dickie Orr, in the office of his new law firm, the stoush between them – inevitable it seems, whenever the ex-couple share the same space – comes back to haunt her when Dickie goes missing, and is feared murdered. The resultant chaos is furthered by the inclusion of Stephanie's arch-enemy, Joyce Barnhardt, pointing the finger of blame at her, running interference in Stephanie's attempts to investigate the situation, and insinuating Stephanie is after his money; an awful lot of money at that. And, as usual, Stephanie is broke and works to apprehend three bond violators in order to earn some much-needed income. So interspersed in the mix is the habitual madness and mayhem, as Stephanie follows a grave-robber with a pet snake and a taxidermist who booby-traps his creations, all while she avoids Dickie's partner's attempts to attack her with a flame thrower. And two gorgeous men troubling and, oft-times, saving her life…There is nothing much new in this thirteenth book; very little changes with life in the Burg – perhaps the point the author is making. And yet, Janet Evanovich, between the humour and hysteria, always manages to infer a true depth of feeling and a strong commitment to family and friends amongst this motley lot, thus ensuring the characters do not descend into mere caricature. There are some very clever allegories to irritations in real life (cable suppliers), some annoying, but necessary, plot continuations of old themes (another car bites the dust), but there are also many scenes which contain much merriment; the Lula-in-the-cemetery incident nearly making me choke, I was laughing so hard.These books are not meant to be anything more than pure reading enjoyment, and as such, this instalment, if a little less humorous than previous episodes, is just as successful in this regard. As long as I am kept as entertained and amused, as long as I literally cackle with delight at some of the scenarios, and as long as I still hold interest in all the participants, I will continue to read these books. There are much worse pastimes than having a jolly good laugh.
Review by bookwormteri
16/06/2015
Not the best in the series, but still imminently enjoyable.
Review by sarams
16/06/2015
Perfect to read a sunny spring weekend. A little laughter, some vehicles destroyed, complicated relationships..
Review by wyvernfriend
16/06/2015
There were a couple of genuine laugh-out-loud moments in this but I don't understand Ranger's patience, nor Morelli's. Really Stephanie is spoilt rotten having both of them rescuing her on a regular basis! This time Stephanie has to visit her ex, Dickie Orr to plant some tracers for Ranger on him. This was a mistake, Dickie brings out the worst in Stephanie and she attacks him, which leads to her being a prime suspect when he disappears leaving a trail of blood!Dickie's partners start turning up dead and now Joyce, Dickie's new squeeze is looking to find Dickie and possibly to kill Stephanie, and as usual Stephanie is bungingling her way to solving the crime.It's pure mind candy, entertaining stuff but nothing serious.