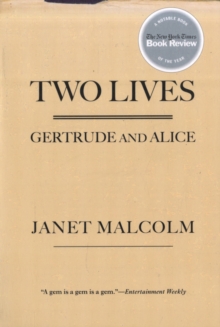 Two Lives : Gertrude and Alice
Paperback
Description
"How had the pair of elderly Jewish lesbians survived the Nazis?" Janet Malcolm asks at the beginning of this extraordinary work of literary biography and investigative journalism.
The pair, of course, is Gertrude Stein, the modernist master "whose charm was as conspicuous as her fatness" and "thin, plain, tense, sour" Alice B.
Toklas, the "worker bee" who ministered to Stein's needs throughout their forty-year expatriate "marriage." As Malcolm pursues the truth of the couple's charmed life in a village in Vichy France, her subject becomes the larger question of biographical truth. "The instability of human knowledge is one of our few certainties," she writes.
The portrait of the legendary couple that emerges from this work is unexpectedly charged.
The two world wars Stein and Toklas lived through together are paralleled by the private war that went on between them.
This war, as Malcolm learned, sometimes flared into bitter combat.
Two Lives is also a work of literary criticism. "Even the most hermetic of [Stein's] writings are works of submerged autobiography," Malcolm writes. "The key of 'I' will not unlock the door to their meaning-you need a crowbar for that-but will sometimes admit you to a kind of anteroom of suggestion." Whether unpacking the accessible Autobiography of Alice B.
Toklas, in which Stein "solves the koan of autobiography," or wrestling with The Making of Americans, a masterwork of "magisterial disorder," Malcolm is stunningly perceptive. Praise for the author: "[Janet Malcolm] is among the most intellectually provocative of authors ...able to turn epiphanies of perception into explosions of insight."-David Lehman, Boston Globe "Not since Virginia Woolf has anyone thought so trenchantly about the strange art of biography."-Christopher Benfey
Information
Format: Paperback
Pages: 240 pages, 12 b-w illus.
Publisher: Yale University Press
Publication Date: 09/09/2008
Category: Biography: literary
ISBN: 9780300143102
Free Home Delivery
on all orders
Pick up orders
from local bookshops
Reviews
Showing 1 - 1 of 1 reviews.
Review by nancyewhite
16/06/2015
A literary biography of Gertrude Stein and Alice B. Tolklas by New Yorker writer Janet Malcolm. This is not a chronology of their lives but rather explorations of particular questions like "How did two Jewish lesbians survive WWII in France?" and "What is the biographer/critic's role when writing about a subject?" It is, of course, very, very well written and quite interesting if you have a basic knowledge of their lives. If you don't, you should probably start with The Autobiography of Alice B. Tolklas by Stein herself.