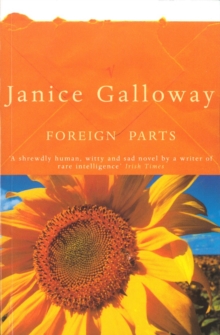 Description
Cassie and Rona. Rona and Cassie. Two women on a driving holiday in Northern France. A caustic, coruscating and deeply funny account of morality, dysfunctional relationships and women abroad, Foreign Parts is that rare hybrid: a strikingly original novel about real life, told with accuracy, compassion and a truly saturnine delight.
Information
Format: Paperback
Pages: 272 pages
Publisher: Vintage Publishing
Publication Date: 23/02/1995
ISBN: 9780099453017
Other Formats
EPUB from £4.99
Paperback from £9.25
Free Home Delivery
on all orders
Pick up orders
from local bookshops
Reviews
Showing 1 - 1 of 1 reviews.
Review by PiningfortheWest
16/06/2015
This is the story of Rona and Cassie who work in the same office and have taken to going on holiday together since the days of having men in their lives are long gone. This time they're going to France, partly because Rona wants to take a photograph of her grandfather's headstone which is in one of the military cemeteries there.Rona is doing the driving and they've taken a ferry to Normandy and the road trip is interspersed with Cassie's reminisences of past holidays she has had with various boyfriends. The Cassie/Rona relationship is a strange one. You can't really work out if they are really close friends or they just stick to each other because there are no better options.In fact, that seems to be the main theme of the book as Rona and Cassie briefly ponder over Rona's grandparent's relationship through his last letter home to his wife.The best thing that I can say is that Janice Galloway is good at writing Scots dialogue, not really the dialect, more the rythym of it - and that is quite a difficult thing to get right.However, considering the book is supposed to be set in France, it reads like it has been written by someone who has never been to France. In fact it seems to have been written by someone who <strong>couldnae be arsed tae dae any research at a'</strong>.There are quite a lot of things which are just plain wrong but the thing which annoys me the most is the description of a British war cemetery - which apparently had crosses as far as you could see!<strong>No it didn't</strong>. American war cemeteries have crosses and stars of David, the French ones have crosses or Islamic arched stones but British cemeteries have what is called the Commonwealth headstone which is a rectangular stone, slightly curved at the top.Galloway doesn't mention the name of either the ferryport which they left from or indeed the French one which they arrived at but it was an overnight ferry which obviously took all night to get there. It should take about two hours altogether unless you're going a very weird way. The ferry was described in detail - oil smells and the like, however when they visited French supermarkets there are no descriptions at all really. Now I defy anyone to visit a French supermarket and not have that smell which assails you before you even step through the door stuck in your memory, not to say olfactory senses <strong>forever</strong>. If you are lucky enough never to have visited a French supermarket, just imagine a building full of food which isn't well stored, chilled or covered and where nothing seems to have been washed for a few generations and you'll get close to the experience. It seems strange for an author to leave details like that out.