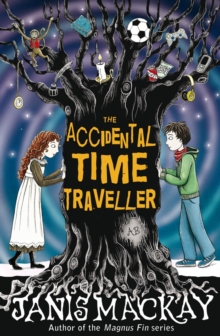 The Accidental Time Traveller
Paperback
Part of the Kelpies series
Description
Winner of the Scottish Children's Book Award 2013 Younger Readers (8-11 years) category One ordinary day, Saul is on his way to the corner shop when a girl appears suddenly in the middle of the road.
She doesn't understand traffic, or the things in shops, and she's wearing a long dress with ruffled sleeves.
Her name is Agatha Black. Agatha Black is from 1812, and Saul needs to find a way to get her back there.
With help from his mates Will and Robbie, he tries to work out how to make time travel happen.
This pacy, time-travelling adventure from Janis Mackay, author of the Magnus Fin series, is full of funny misunderstandings and gripping action.
Information
Format: Paperback
Pages: 208 pages
Publisher: Floris Books
Publication Date: 21/02/2013
Category: Fantasy
ISBN: 9780863159541
Free Home Delivery
on all orders
Pick up orders
from local bookshops
Reviews
Showing 1 - 2 of 2 reviews.
Review by pussreboots
16/06/2015
Accidental Time Traveller by Janis Mackay is about the friendship between a boy in 2013 and a girl from 1813. Saul is on his way to the corner shop on an errand for his mother when Agatha suddenly appears in the middle of traffic. He helps her find a place to hide, helps her adjust to 2013, and ultimately helps her find her way home.The book is probably best suited for children living in and around Edinburgh, Scotland as it's very detail oriented, especially for Agatha's half of the story. There's an afterword by the author explaining the inspiration for Agatha.That said, Saul is a relatable protagonist. Although he's frustrated by having to now share his parents (and their limited funds for toys) with his infant twin brothers, he's not consumed by his emotions (as is often the case with this sort of set up). He is genuinely concerned about Agatha and is willing to help.Agatha, too, isn't a complete fish out of water. Two hundred years is a long time, sure, but these a children growing up in the same neighborhood of the same city — a city with a much longer history. That shared geography with shared traditions gives Agatha a point of reference for learning about the modern day.My one quibble, though, is the title. Yes, Agatha is a time traveller. But there's nothing accidental about her arrival in 2013. Perhaps the word unexpected would be a better one. Agatha is a time traveler, though this is the longest she's gone into her future. The how and why of her ability to travel is more grounded in metaphysics and magic than in wibbly wobbly science young Doctor Who fans might be expecting.All in all, I liked it. It took me a while to settle on a premise I had misunderstood (as had other reviewers). Somehow I had expected Saul to go back in time, rather than Agatha to come forward in time.
Review by datrappert
16/06/2015
I got this book for my 11-year old daughter, but once I glanced at the first chapter I found myself reading it. It is a well-written, highly compelling, and ultimately deeply moving story about a girl, Agatha, who is projected 200 years into the future--from 1812 to 2012--by her father's time travel experiment. Once there, she needs the help of Saul, a boy her own age, to return. The important part of the story has nothing to do with time travel, however. It is the lessons that Agatha teaches Saul and his friends during her stay in the future. These range from practical things such as starting a fire without matches to much more important lessons about life and friendship. All of this takes place in a well-drawn Scottish village setting, and the author's use of Scottish words (and products such as Irn-Bru) adds to the flavor and authenticity. I know my daughter will enjoy this book as much as I did, although she probably won't cry (not with sadness) through the last few pages!