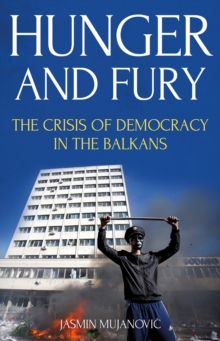 Hunger and Fury : The Crisis of Democracy in the Balkans
Paperback / softback
Description
Less than two decades after the Yugoslav Wars ended, the edifice of parliamentary government in the Western Balkans is crumbling.
This collapse sets into sharp relief the unreformed authoritarian tendencies of the region's entrenched elites, many of whom have held power since the early 1990s, and the hollowness of the West's 'democratisation' agenda. There is a widely held assumption that institutional collapse will precipitate a new bout of ethnic conflict, but Mujanovic argues instead that the Balkans are on the cusp of a historic socio-political transformation.
Drawing on a wide variety of sources, with a unique focus on local activist accounts, he argues that a period of genuine democratic transition is finally dawning, led by grassroots social movements, from Zagreb to Skopje.
Rather than pursuing ethnic strife, these new Balkan revolutionaries are confronting the 'ethnic entrepreneurs' cemented in power by the West in its efforts to stabilise the region since the mid-1990s. This compellingly argued book harnesses the explanatory power of the striking graffiti scrawled on the walls of the ransacked Bosnian presidency during violent anti-government protests in 2014: 'if you sow hunger, you will reap fury'.
Information
Format: Paperback / softback
Pages: 240 pages
Publisher: C Hurst & Co Publishers Ltd
Publication Date: 18/01/2018
Category: Military history: post WW2 conflicts
ISBN: 9781849048927
Free Home Delivery
on all orders
Pick up orders
from local bookshops