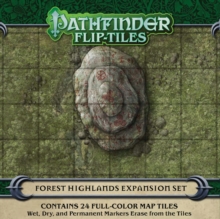 Pathfinder Flip-Tiles: Forest Highlands Expansion
Game
Description
There's Danger in thoseHills!The more rugged the landscape, the morefearsome the monsters!
Next time your players are ready to trudge their way upthe hills in search for giants and dragons, they won't have to wait for you todraw every tree and boulder.
Pathfinder Flip-Tiles: Forest Highlands ExpansionSet provides beautifully illustrated 6" x 6" map tiles that can transformyour forest into wooded crags filled with peril and adventure.
Inside, you'llfind 24 richly crafted, double-sided map tiles.
This expansion set, along withPathfinder Flip-Tiles: Forest Starter Set, allows you to create endless tractsof hilly forests quickly!
So stop your sketching and start your flipping today!The Forest Perils Expansion Setincludes:DangerousCaveHighlandPathPrimal ShrineRushingRiverScenicLakeWaterfall
Information
Format: Game
Pages: 18 pages
Publisher: Paizo Publishing, LLC
Publication Date: 16/07/2019
Category: Indoor games
ISBN: 9781640781436
Free Home Delivery
on all orders
Pick up orders
from local bookshops