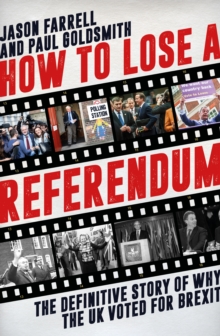 How to Lose a Referendum : The Definitive Story of Why the UK Voted for Brexit
Hardback
Description
In this definitive account of the momentous In/Out referendum on Britain's membership of the European Union, Sky News Senior Political Correspondent Jason Farrell teams up with blogger and Economics and Politics teacher Paul Goldsmith to provide the definitive explanation of what led to one of the biggest shocks in political history - Brexit.
The product of extensive and refreshingly frank interviews with the key players in both campaigns, coupled with a thorough exploration of the historical decisions that led to Britain's departure, How to Lose a Referendum takes us from the creation of the European Union after the Second World War to David Cameron's renegotiation in 2016 and its astonishing aftermath.
It looks at what went wrong with the EU brand, the treaties and the changes and consequences that came with them, and asks why a project designed to promote peace and prosperity was ultimately so hard to defend.
Along the way, Farrell and Goldsmith identify eighteen key reasons why the UK chose to leave.In each case whether it be an individual like Nigel Farage, social change such as the rise of a disaffected electorate, or the failure of the remainers' message to hit home - the authors dig deep to get to the root of the issue.
Information
Format: Hardback
Pages: 384 pages
Publisher: Biteback Publishing
Publication Date: 23/06/2017
Category: Elections & referenda
ISBN: 9781785901959
Free Home Delivery
on all orders
Pick up orders
from local bookshops