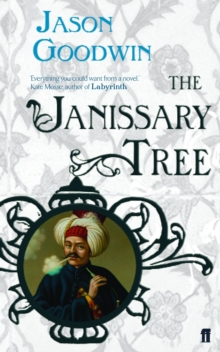 The Janissary Tree
Paperback
Description
A concubine is strangled in the Sultan's palace harem, and a young cadet is found butchered in the streets of Istanbul.
Delving deep into the city's crooked alleyways, and deeper still into its tumultuous past, the eunuch Yashim discovers that some people will go to any lengths to preserve the traditions of the Ottoman Empire.Brilliantly evoking Istanbul in the 1830s, The Janissary Tree is a bloody, witty and fast-paced literary thriller with a spectacular cast.
Information
Format: Paperback
Pages: 352 pages
Publisher: Faber & Faber
Publication Date: 07/06/2007
Category: Historical mysteries
ISBN: 9780571229246
Free Home Delivery
on all orders
Pick up orders
from local bookshops
Reviews
Showing 1 - 3 of 3 reviews.
Review by akfarrar
16/06/2015
Let me start by saying this is a jolly good read - and a great book to take on holiday to a Turkish beach, especially if you are off on a trip to Istanbul as part of your visit.I read it within three days of starting it - I was quickly dragged into the story and the pace builds up to a nice `want to know' ending.If you are 'into' the Historical detective story, this is almost as good as it gets. Plenty of historically accurate detail - the sort of `everyday detail' needed to spice up the story - food, clothing, buildings.And the essential characters are there: The not quite accepted by anyone `detective'; the manipulative bad-guy; an exotic beautiful temptress; and a tart-with-a-heart with a difference (one of my favourite characters I have to say).What this is is firmly `escapist' - but with a slightly educational twist - I did get a sense of what Istanbul must have been like, and a sense of the origins of the modern Turkish dilemma between secularism and tradition. If at times the writing felt too worthy, it only lasted a short time and we were soon back chasing fire-raisers through the seedy streets.This is not Orhan Pamuk - but it isn't meant to be.
Review by Kanikoski
16/06/2015
It's difficult to pinpoint why I did not like this more. All the ingredients are there for a romping read: a clue-by-clue detective story, thriller-like action and twists, and even a (somewhat uncomfortable) passionate eunuch affair. But maybe the characters, lacking depth, were formed around the plot, rather than vice versa. Maybe there was more fat that could be cut from the story-telling. Whatever the reason, I found the book ultimately less than satisfying.
Review by wyvernfriend
16/06/2015
Janissary TreeA detective novel where the investigator is a Eunuch, Yashim, who is investigating a murder in the Harem and four young cadets in the new army who have replaced the Janissaries. When the Janissaries were disbanded they weren't unsatisfied by the situation. All clues point at their involvement. However as he digs into the mystery he finds more questions than answers.It's an interesting look at Istanbul in 1836, a time of great change and social upheaval all throughout the western world. Istanbul continues to straddle the world of the West and the Middle East. I felt that the ending was a little rushed and really left me somewhat unsatisfied. However it was an interesting read and I look forward to reading more from this series.
Also in the Yashim the Ottoman Detective series | View all