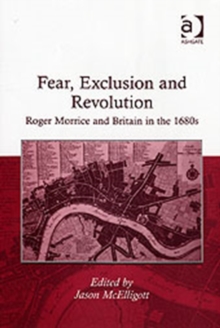 Fear, Exclusion and Revolution : Roger Morrice and Britain in the 1680s
Hardback
Description
Between the years 1677 and 1691 the Puritan minister Roger Morrice compiled an astonishingly detailed record of public affairs in Britain.
Running to almost a million words his 'Entring Book' provides a unique record of late seventeenth-century political and religious history.
It charts the rise of British party politics, and the transformation of Puritanism into 'Whiggery' and Dissent.
It provides a wealth of information on social and cultural history, as well as the relationships between the three Stuart kingdoms. All the essays in this volume have been inspired by the key concerns of the Entring Book: the palpable sense of the fear and foreboding in the 1680s; the long shadow cast by the mid-century civil war; the profound effect on Englishmen of events on the continent; and the anxieties and opportunities caused by a socially diffuse culture of news and information.
In so doing they give a vivid sense of what it was like to live in England in the years before the Revolution and help to explain why that Revolution took place when it did, and why it took the particular form that it did.
These chapters provide fresh and insightful perspectives on religion, politics and culture from established and emerging scholars on three continents.
Taken together they offer a valuable introduction to the world of Roger Morrice, and will be an essential companion to the scholarly edition of the Entring Book.